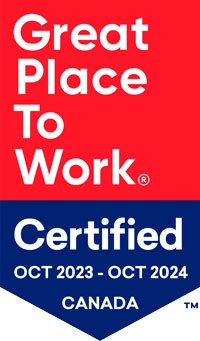 [Toronto], October 16, 2023 – Assurant is proud to announce that we have been certified as a Great Place to Work® after a thorough, independent analysis conducted by Great Place to Work Institute® Canada. This certification is based on direct feedback from employees, provided as part of an extensive and anonymous survey about their workplace experience. This is the second year in a row Assurant has received this honour in Canada.
"Nothing is more important to our success than the wellbeing and growth of our employees," said Paul Cosgrove, President & CEO, Assurant Canada. "Being re-certified as a Great Place to Work reinforces that our priorities are in the right place. Empowering career satisfaction and growth within the organization is creating an environment where people can thrive and develop their careers."
Nancy Fonseca, Senior Vice President of Great Place to Work® Canada, says that a great workplace is about the level of trust that employees experience in their leaders, the level of pride they have in their jobs, and the extent to which they enjoy their colleagues. "Our data shows that great workplaces benefit from stronger financial performance, reduced turnover, and better customer satisfaction than their peers. What's more, work environments with trust at the foundation are ripe for innovation, agility, resilience, and efficiency," Fonseca said.
###
About Assurant
Assurant, Inc. (NYSE: AIZ) is a leading global business services company that supports, protects and connects major consumer purchases. A Fortune 500 company with a presence in 21 countries, Assurant supports the advancement of the connected world by partnering with the world's leading brands to develop innovative solutions and to deliver an enhanced customer experience through mobile device solutions, extended service contracts, vehicle protection services, renters insurance, lender-placed insurance products and other products.
Learn more at assurant.com or on Twitter @Assurant.
About Great Place to Work®
Great Place to Work® is the global authority on workplace culture. Through proprietary assessment tools, advisory services, and certification programs, Great Place to Work recognizes Canada's Best Workplaces in a series of national lists including those published by The Globe & Mail (Canada) and Fortune magazine (USA). Great Place to Work provides the benchmarks, framework, and expertise needed to create, sustain, and recognize outstanding workplace cultures.
Visit us at www.greatplacetowork.ca or find us on Twitter at @GPTW_Canada.
Media contact:
Lorraine Doherty
Director, International Communications
Phone: 416.733.3360
[email protected]