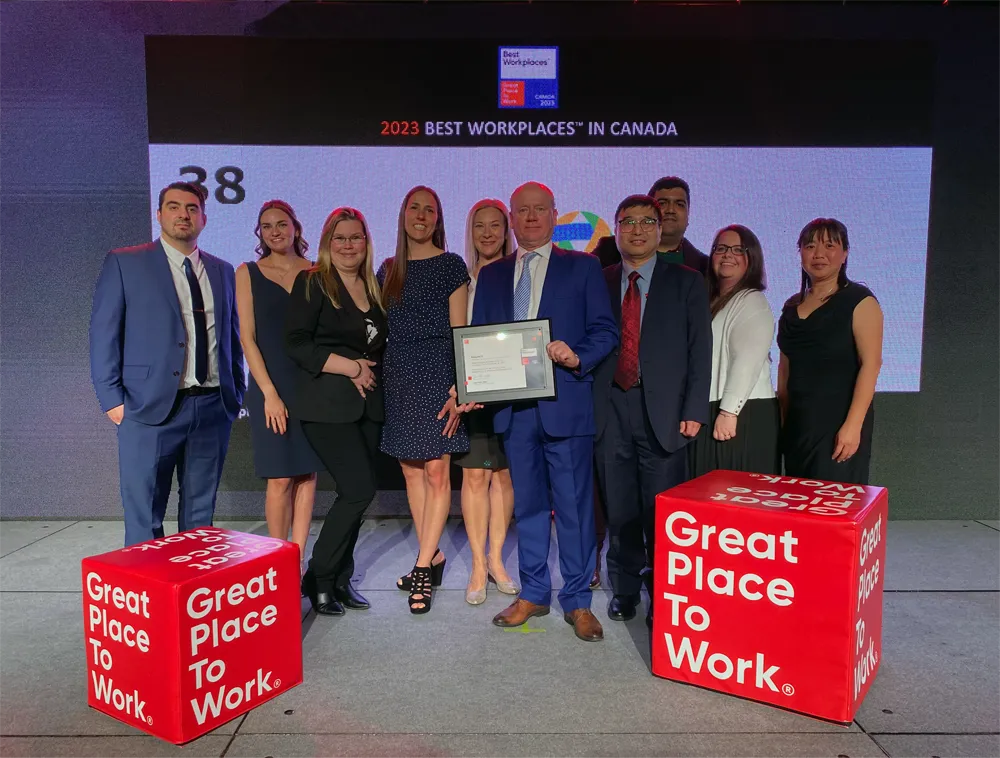 Assurant, a leading global business services company that supports, protects, and connects major consumer purchases, has officially ranked 38 on this year's Best Workplaces™ in Canada List.

This marks the first time Assurant has been recognized as one of the best companies to work for in Canada and follows Assurant's inclusion in the Best Workplaces for Women in Canada list announced earlier this year.

"Assurant ranking as one of the Best Workplaces in Canada is a testament to our people and their dedication. Without them, we would not be where we are today," said Paul Cosgrove, President & CEO, Assurant Canada. "These recognitions demonstrate that Assurant is a place where our employees can invest into their future and develop their career. Our employees are valued, seen and heard."
The 2023 Best Workplaces™ in Canada list is compiled by the Great Place to Work® Institute. The competition process to be ranked on this list is employee driven and represents multiple industries and sizes of organizations. Seventy five percent of each organization's score is based on confidential employee feedback, from the globally recognized Trust Index® Survey. The remaining twenty-five percent is based on quality, quantity and effectiveness of the programs and policies which support their employees and corporate culture. This study offers a rigorous representation of the organization from an employee perspective, and an overall portrait of the workplace culture. Together, they provide crucial data relative to five trust-building dimensions: credibility, respect, fairness, pride, and camaraderie.

This year's list captures the experience and sentiment of 150,000 employees, rolling out to impact over 500,000 Canadian employees.
###
About Assurant
Assurant, Inc. (NYSE: AIZ) is a leading global business services company that supports, protects and connects major consumer purchases. A Fortune 500 company with a presence in 21 countries, Assurant supports the advancement of the connected world by partnering with the world's leading brands to develop innovative solutions and to deliver an enhanced customer experience through mobile device solutions, extended service contracts, vehicle protection services, renters insurance, lender-placed insurance products and other specialty products.
Learn more at assurant.com or on Twitter @AssurantNews.
About Great Place to Work®
Great Place to Work is the global authority on workplace culture. Since 1992, they have surveyed more than 100 million employees around the world and used those deep insights to define what makes a great workplace: trust. In 2022, they launched the first-ever annual UK's Best Workplaces™ for Wellbeing list of organisations who stood out as delivering exceptional wellbeing support for their employees across all levels and departments. For more information, visit www.greatplacetowork.co.uk