It's easy to talk about core values, but to embody them while inspiring others is something exceptional. Yet that's what Assurant DevOps Engineer Coaches Rosie and Yola Belisario, also known on Instagram as the Coding Sisters, do every day. In their day-to-day work and social media presence, they exemplify the Assurant core value of Uncommon Thinking – pushing past the status quo, seeking diverse perspectives, and thriving on challenge. That approach has garnered over eleven thousand followers to their account. And this Hispanic Heritage Month, we celebrate their journey and strength.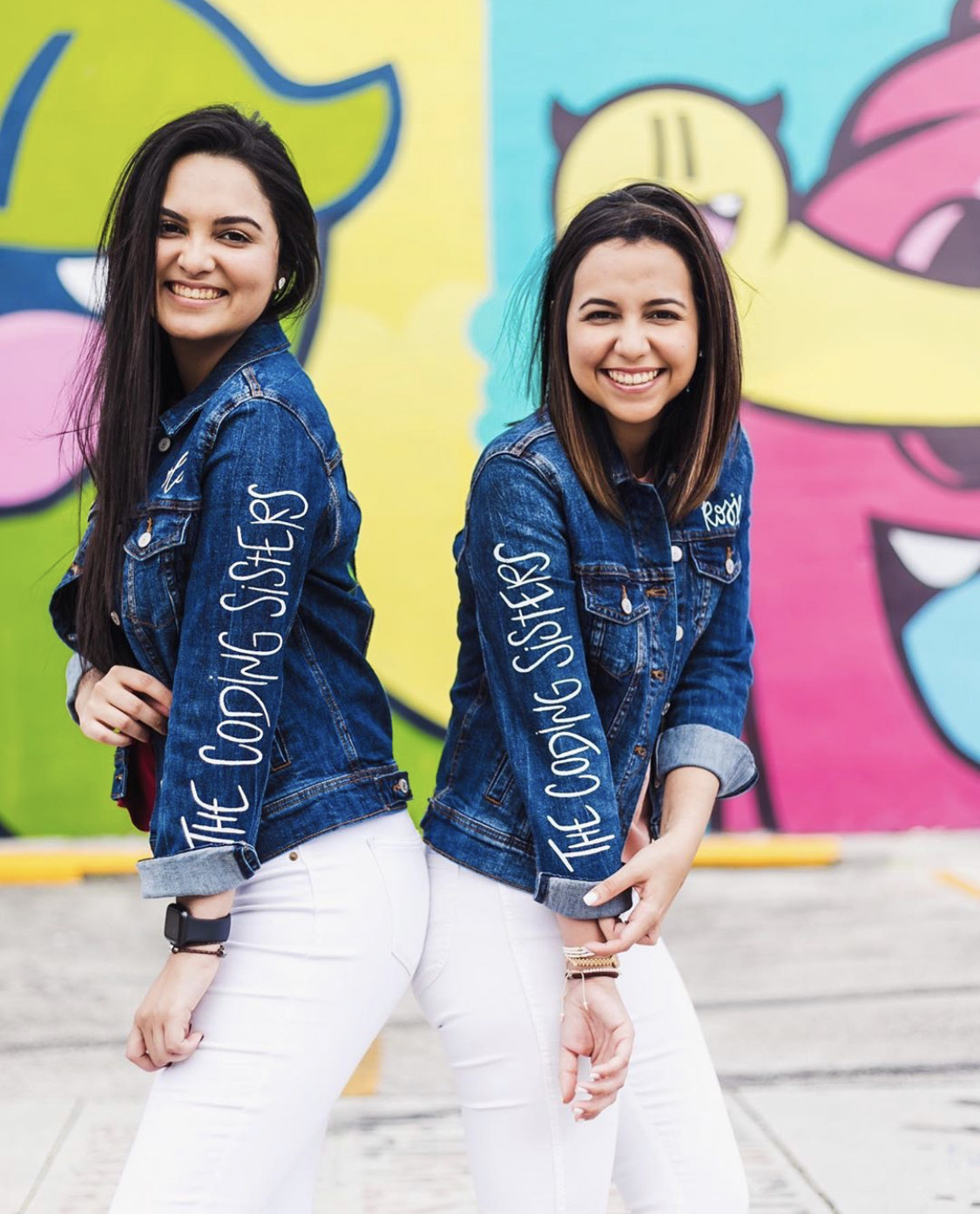 A Social Media Platform Born of Necessity
Rosie and Yola are originally from Venezuela and now reside in Miami. Before they built a presence on social media, they studied Computer Science, facing not only the difficulty of the subject, but, as Latinas, learning it in their second language, English. From these challenges arose the Coding Sisters, where their mission is to "inspire, break stereotypes and fight the imposter syndrome."
Rosie and Yola light up when they talk about the Coding Sisters and it's clear their passion and personalities have almost as much to do with the success of their feed as its content. The Coding Sisters, they say, was born out of necessity. "When we started studying Computer Science, we were struggling," Rosie says. "Everybody seemed to have it together but us, and we felt like we couldn't express that we were struggling. Thank goodness we had each other to talk to."
Building an Open, Supportive Space for Others
As minority women in a predominantly male field and Venezuelan immigrants, they had to overcome a few professional and personal barriers to add building blocks to their careers.
"We didn't quit because we had each other," says Rosie. "And we figured out that people were probably quitting because they didn't feel like they were enough and didn't have any way to express their frustrations, like we did. We decided to make an open space where people could talk things out."
The open space took shape as an Instagram feed featuring Rosie and Yola as the Coding Sisters, where they post dynamic content regularly. They offer vulnerability, a sympathetic ear and sound advice on matters like Imposter Syndrome.
"Imposter Syndrome is where you feel like you don't deserve [something] because you think you don't have the skills or you're just not enough in yourself," Yola says.
"But when you ask people about this, you find out almost everybody has gone through it," says Rosie. "We believe that persistence and hard work will win over Imposter Syndrome every time. If you have a barrier, recognize it and own it. For example, I used to worry about my English because I speak with an accent, and it was a big problem for me in job interviews. But then I decided that instead of worrying about it, I would own it and acknowledge it. My Imposter Syndrome went away, and I discovered that people respected me more for owning my accent. Once you own the thing you think is your weakness, that ownership will become your strength."
Sharing their vulnerabilities as well as their determination helps followers of the Sisters feel heard. For example, upon learning they had some completed work that required numerous changes, they confess, "We felt sad/disappointed. We felt like failures." But they go on to write in their post about realizing that the problem was not the feedback, but rather their expectations about it.
The post reveals that they were able to reframe the input in a positive light and use it to improve their work. In response, one follower commented, "The same happened to me today. I'm really struggling right now because I'm so disappointed… so your post really gets to me right now and you're definitely right!" And that's just one example; there are posts about getting organized, speaking up, and more, accompanied by comments from people who are getting relief and encouragement.
Building a Personal Brand
Originally, their combination of coding, compassion and practicality attracted followers from Computer Science, but soon they were winning audience from the broader STEM (Science, Technology, Engineering and Math) world.
And it is no wonder they've inspired many across the social media platform, many of whom are minority women. Findings from a Catalyst study revealed, the share of STEM degrees is smaller for women of color in the United States. In 2017–2018, women of color earned a small percentage (14.1%) of bachelor's degrees across all STEM fields, including:
Asian women: 5.3%
Black women: 2.9%
Latinas: 4.3%
American Indian/Alaska Native women: 0.1%
Soon enough, professionals across a broad range of industries began to engage with their content as their posts included words of wisdom on the importance of soft skills. But Rosie and Yola didn't stop there.
After the Coding Sisters was up and running and they started working at Assurant, Rosie and Yola wanted to contribute something extra to help fellow employees in their office. They decided to share their experience with Assurant interns. They reached out to IT and business owners to get the green light for the Intern Experience program.
"Everybody was very supportive," Yola says. "They thought it was a great idea."
The program involved two hours each week of the Sisters working with interns on soft skills, such as organization and leadership. "We would give them homework," Rosie says. "One assignment was to describe the kind of leader you don't want to be. They came up with some amazing ideas! After that, we told them to combine that list with a list of their weaknesses. The result would be all the soft skills they needed to work on. We're proud of the Intern Experience because a lot of them went on to get their internships extended or to get full time jobs with the company."
Celebrating their Roots for Hispanic Heritage Month
Even though they both celebrate Hispanic roots, Yola and Rosie laugh about the different ways they feel connected to their own culture and Venezuelan background. "Yeah, definitely," Yola responded. "At least my way is through food. I love food. That's the way I connect with my roots. Even though I'm Venezuelan, I love Mexican, Peruvian food, Colombian food. It's just incredible to know how many different ingredients you can find in Latin America and how it connects to the history that we have."
As for Rosie, she connects to her roots through music. "Yes, and in my case, I think it's music. I love listening to music. And actually, that's why we don't work in the same room because I always listen to music, but I just love the diversity that we can find within the Hispanic culture and the Hispanic community. So I'll say that it's music for me."
Finding their Voices
While it's uncommon for two sisters to start their careers at the same company, there's nothing common about the Coding Sisters or how they've approached their field. As women, let alone Latinx women in tech, the Sisters are aware they are in a traditionally male-dominated field. But they aren't intimidated. Instead, they're inspired. "We know the gender gap exists," Yola says, "but we haven't run into any issues at Assurant. And we also know our voice has the same value as anyone else's."
It's a strong voice, figuratively and literally. One of their Instagram posts reads: "In meetings, either at work or school we use a very loud voice because we want to be heard and using this #LatinaPower gives us a lot of confidence."
Assurant celebrates Yola and Rosie's voices, as they embody the organization's strategic vision to bring together diverse, talented individuals to solve connected world challenges and empower our partners and consumers to thrive. It is because of their creativity, vulnerability and innovative spirit that Assurant continues to advance diverse perspectives to drive strong results for our consumers and our communities.
Speaking out, owning your differences and making them your strengths - that's the magic of Uncommon Thinking. And it's the reason we celebrate Rosie and Yola, and outstanding employees like them, not just for National Hispanic Heritage Month, but every single day.
Celebrate Hispanic Heritage Month with us: #NuestroAssurant & #HispanicHeritageMonth