Renters needs are changing, driven by a combination of pandemic-induced necessity and technological capability. As we move slowly into a post-pandemic world, the demand for work-from-home amenities and other connected features will likely continue. Now is the time for property management companies to create a competitive advantage by tailoring their properties to meet the evolving needs of renters.
The future of work has likely been forever altered by the pandemic, and many employers around the world are adapting. Hybrid work schedules, hoteling and full-time work-from-home are becoming a reality for many. As a result, the consumer need for home functionality will extend beyond the pandemic.
Working From Where You Are and Beyond
Renters' everyday lives have changed drastically and will continue to change, and they need their amenities to help their lives run smoothly. Multifamily housing owners that can meet those needs will benefit, and the ones that don't may lose a competitive advantage.
At the onset of the pandemic, we conducted a comprehensive survey on connected products in the Multifamily Housing industry. The results showed that offering smart home products (lighting, security systems and wall plugs) as amenities drives interest in a future rental for 44% of prospective renters — that's almost half of prospects.
Amenities That Matter Right Now
To attract residents as we progress further out of the pandemic means emphasizing the right amenities. Our survey showed that 26% of renters increased their use of free Wi-Fi in their units, with 39% maintaining their pre-pandemic use. This is likely due to the increased need for connectivity to work from home and school from home, which may remain steadfast.
Other property amenities and features that were popular in the past, such as shared common areas and shared fitness facilities experienced a decrease in demand. Fifty-three percent of renters said they no longer used the shared fitness facility and another 29% used it less than previously or had never used it at all. This trend may shift as restrictions relax, but that remains to be seen.
Another factor that may shift amenity use will be renter preferences for amenities due to changes they made as a result of the pandemic. For example, they may have purchased home exercise equipment and no longer need or want community fitness facilities.
Interest in free Wi-Fi in common areas will likely continue to grow as renters find value in a change of scenery for working beyond their apartment. Because many will be at home more than before, renters may be inclined to add more connected devices to their now-combined work and home space. Connected devices such as smart lighting, thermostats, locks and security systems can help make their lives easier, safer and more streamlined.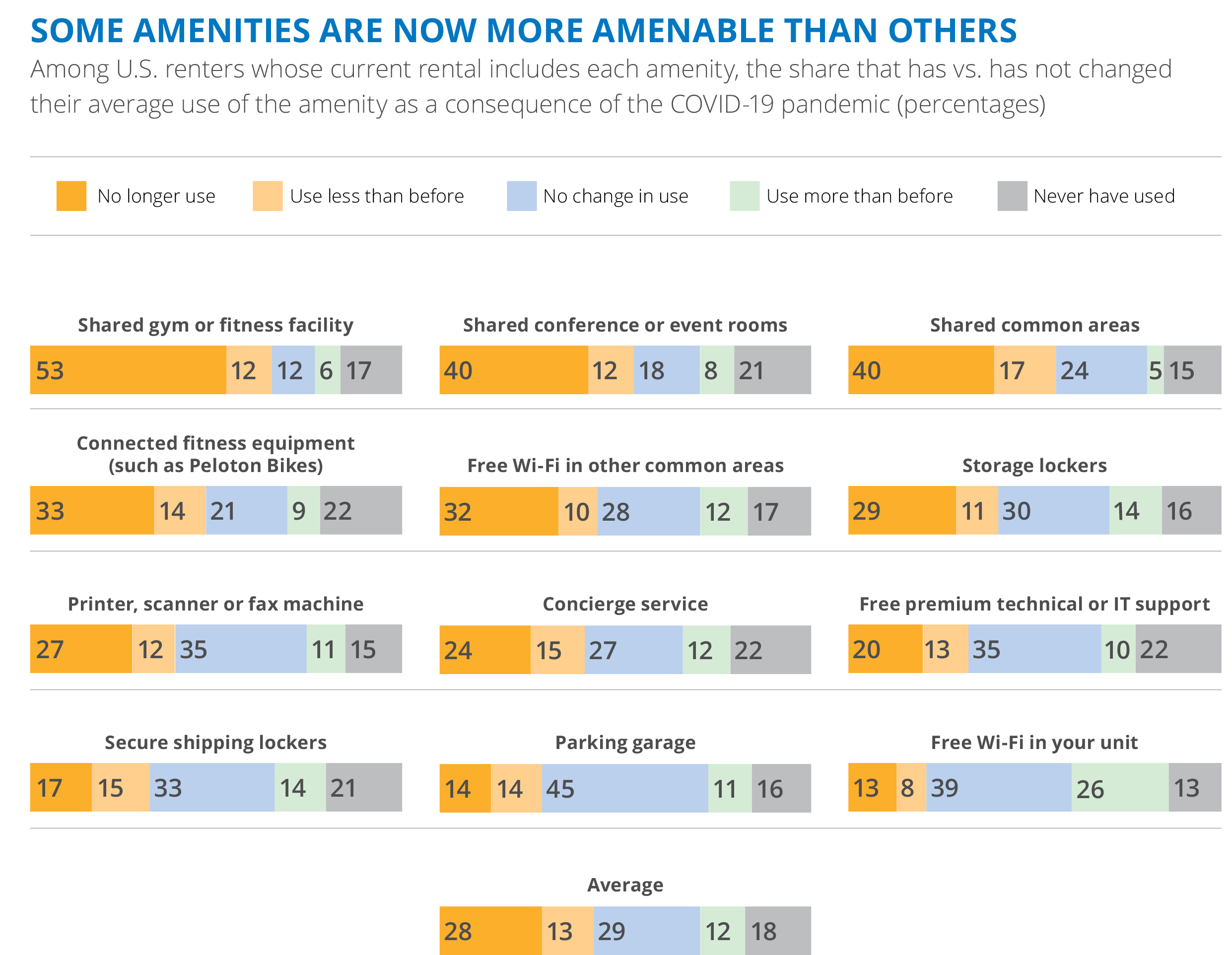 Connected Lifestyle Needs
For many renters, amenities that support the work from home lifestyle have become necessities rather than just nice-to-haves. The COVID-19 pandemic resulted in many companies requiring their employees to work remotely, creating a surge in demand for in-unit internet connectivity for a home office space. A total of 65% of renters with free in-unit Wi-Fi reportedly use it as much as they ever did or use it more than before.
Creating a Tech-Savvy Residential Community
When it comes to tech, renters want things to be as seamless as possible. In last year's study on the connected ecosystem, more than a third (36%) of consumers who bought a connected product failed to connect it to their network, citing their biggest challenge was that they didn't know how to connect the device. So, while the intent to use these connected devices is high, some residents may struggle with interoperability of their devices and look to you for assistance.
As a property owner, you can make that process more seamless by working with a tech partner. Installing and setting up connected technology likely isn't part of your leasing staff's day-to-day duties. Create a partnership with a company that can handle installation, setup and support of your community's work-from-home tech.
Often, consumers may not connect a smart home product, not because they don't see its value, but because they simply can't figure out how to connect it without further assistance. And our research supports this.
In fact, when moving into their current rental property, an average of 16% of renters say they would've liked to have support setting up their connected home. An additional third of renters planned ahead for help; whether from friends and family (11%), a premium fee-based service (12%) or arranged complimentary assistance from their property manager (9%).
Of the 36% of renters who have experienced an increase in tech-related challenges during the pandemic, more would prefer to receive support from property management staff than from a telecommunications company. This gives you an opportunity not just to offer technology support, but build relationships and develop renter loyalty.
Using What You Already Have
It's important to highlight how your community's existing features can support your residents' work from home needs. During in-person or virtual property tours, focus on the existing characteristics of the property. Showcase existing spaces that might otherwise be underused, like spare bedrooms, as potential home office spaces. Likewise, you can highlight any feature of a unit that creates a separation of work and home areas, such as a den or a large walk-in closet.
Is the soundproofing between units on your property particularly good? Point this out as a feature that would allow undisturbed work. If a unit has good natural lighting, note that sunshine makes for a more pleasant, productive work environment; or, for units without great natural light, emphasize that artificial light lets the renter control the room's brightness so computer monitors are easier to read. Units that are pre-wired for smart home conveniences like thermostats, high-speed wi-fi and other features will be attractive to potential renters. The more attributes you can combine, the more attractive to your property will be for these renters.
Tech Advancements Drive Expectations
The impacts of the COVID-19 pandemic aren't the only factors that contribute to renters' changing needs. Development of communications technology also drives the status of work-from-home technologies up from amenities to necessities — features that are simply expected. 5G mobile technology is increasing expectations of higher-speed connections and, as the capability expands geographically, it'll find a place beyond mobile devices, coming indoors as 5G home internet. Forty-one percent of renters considered "technology adopters" are very likely to obtain a 5G at-home plan.
Wi-Fi 6, with a potential top speed nearly three times faster than Wi-Fi 5 and the ability to power routers that handle many devices at once, will make it far easier for you to connect multiple units in a free/included Wi-Fi plan. 5G and Wi-Fi 6 technologies offer the possibility of connecting entire buildings to the internet with minimum cables being pulled through walls. With 79% of technophile renters willing to consider upgrading to a Wi-Fi 6 router, the question will change from "Do you have free (or included) internet connectivity?" to "Why don't you have it?"
Virtual Move-Ins and Renewals Will Be the Norm
Utilizing technology can often be an advantage before you get a potential resident to sign a lease. Forty-six percent of renters likely to rent again in the future say they'll rely more on online tools in their search due to the pandemic. The need for virtual interactions throughout the pandemic created a new standard for the level of research and information prospective renters can pull from the comfort of their own home. What's more, 24% say they would sign a lease based solely on their digital experience of the property. An equal number of renters (24%) are additionally receptive to the idea, even if not fully sold on it yet. To meet their needs, set up virtual tours, either self-guided or with a remote guide from leasing staff. Provide a means for resident communications to be virtual whenever possible. Signatures on paperwork such as leases and renewals will likely be virtual indefinitely, so having the right systems and tools to make this experience seamless will be critical.

Aiding the New Functional Home
From closet office spaces to virtual school classrooms and home gyms, many renters have found that their homes could be so much more than they ever imagined. This likely won't change after the pandemic. Consumers will keep what they liked and revert what they didn't. We'll have a new standard of comfort and capability in our home space that'll only continue to grow and evolve.

You get more residents in the door. We'll help protect your bottom line.
The trend toward working and living at home presents a great opportunity for you to make your property more desirable by reframing its existing features and gradually adding new ones. Assurant's unmatched expertise and industry insight mean that we give you competitive advantages that nonspecialists, tech firms and startups can't. Get innovative, integrated, customized solutions that increase profit, mitigate risk, protect your properties and streamline your operations — freeing you to focus on maximizing occupancy and managing your communities.
Want to learn more? Download our new eBook on improving connectivity for renters.