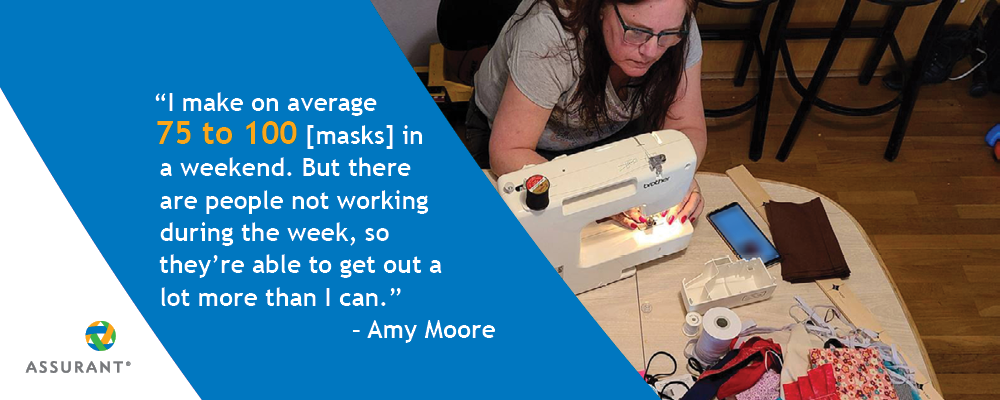 Assurant has a tradition of collaboration and a can-do spirit. We're proud of the innovative solutions we continue to develop for our client partners. The spirit we bring to our work is evident in our communities as well. The Assurant Foundation supported over 1200 charities across the globe last year, including the American Red Cross, Move for Hunger, Junior Achievement and United Way. And many of our employees go above and beyond to seek out new ways to make a difference in their own communities – especially during the COVID-19 pandemic.
Employees like Amy Moore, a senior channel optimization executive located in Las Vegas, Nevada. Early in the pandemic, Amy began sewing masks to protect her sister, a nurse at a local hospital, who was limited on protective gear. And, after seeing the greater need for masks not only in her city, but also across her state, Amy teamed up with other people in her community to help sew masks for essential health care workers to ensure they stayed protected.
Assurant interviewed Amy to learn more about her experience and how she and her fellow volunteer seamstresses banded together to create more than 200,000 (and counting!) masks for hospitals, police and fire departments, senior living facilities and more.
What initially inspired you to sew masks for the essential health care workers? And how did that inspire you to get involved with other people to sew masks?
Amy: It started with a request from my sister. She's a nurse here in Las Vegas. When the [COVID-19] cases first started, she told my mom and me that they were running out of masks. She would wear the same mask for her entire shift. So she asked if we could make her and the other nurses on her floor some masks to wear.
I heard there were groups sewing masks for hospitals and I reached out. Hospitals were requesting a thousand masks, especially the veteran hospitals out here. They didn't have enough masks for the patients or the staff. So I joined a group of about 200 ladies here in Vegas and every weekend we would make masks. We coordinated the delivery so that we could minimize who was going to the hospital and still get masks to the workers that were in dire need of them.
I make on average 75 to 100 [masks] in a weekend. But there are people not working during the week, so they're able to get out a lot more than I can.
And this was facilitated through a Facebook group?
Amy: Yeah, we created a Facebook group. That's where we would communicate when we had enough masks done, coordinate who would pick them up and where they'd be delivered. We also created an Excel file of the requests coming in from the hospital so that we could keep track of the drop-off. We actually expanded past the hospitals and started doing masks for the police and the firefighters out here as well as the paramedics. Senior living homes have been the most recent recipients.
How many people are in your Facebook group?
Amy: Well, there are a lot of us. Our initial group of 200 combined with another group that covers northern Nevada, so we've got northern and southern Nevada covered now. Both teams are coordinating and sharing supplies like fabric, elastic and the metal wire to go around the nose. Everyone's working together to make sure that we all have the materials we need and those us who are delivering masks are able to pick them up quickly and efficiently.

Has your sister shared anything about her experience as a nurse during the COVID-19 pandemic?
Amy: Yeah, one of the things that worried me was the fact that more and more floors were being designated for coronavirus patients. One day my sister had to help on the COVID-19 floor and she came home with her face raw from wearing a mask throughout her shift.
Were there any roadblocks you encountered throughout this effort?
Amy: A few. There are a lot of groups forming nationwide to make masks, so getting supplies like elastic has probably been the biggest obstacle. On top of that, the craft stores were shut down here in Vegas. At first, they were doing curbside delivery and then they stopped doing even that.
So people started using fabric they had stockpiled. Instead of a simple blue or gray mask they started to become fun-patterned masks, which was kind of awesome. We also found sellers on Etsy and got donations from people who owned their own sewing shops. Everything that has been used was either ours or donated. We aren't charging any of the people or places requesting masks, so we relied a lot on donations.
A personal obstacle that I've experienced is sewing masks on weekends while taking care of my child. I have a two-year-old son and, of course, he's wanting to play while we're sewing. So I've been kind of splitting my time between him and sewing. But my goal is — even though he's young — is that, perhaps, I can ingrain a "giving back" mentality. I make sure to include him in what we're doing, taking him with me on drop-offs that are safe for him to go to and stuff like that.
Sadly, Facebook started shutting down groups that were using the word "mask" because they saw it as an enterprise, even though it was all being donated. We shared those warnings with each other like, "Hey! Change your language to 'PPE' or 'covers,'" or "Don't spell out 'mask,'" because they were finding those groups and shutting them down.
As you may know, Assurant provides eight hours of paid time annually for employees to volunteer with organizations that matter to them personally through the Assurant Cares* initiative. Have you or do you plan to utilize any of your Assurant paid volunteer time for this mask effort?
Amy: I actually did use [my volunteer hours]. I volunteered at a food bank here in southern Nevada. Every Wednesday they partner with a local church and donate food. They start at 8 in the morning and they stay out there until they run out of food. I was lucky enough to be able to go out there one Wednesday to help.
Which mask donation are you most proud of?
Amy: I want to say my sister, just because that one is close to my heart. To see how it helped her and her coworkers was amazing. Especially since the hospital she worked at was the one most impacted by COVID-19 here in Vegas.
But the veteran hospitals were also meaningful for me. They take care of the most vulnerable and probably the people that have given the most. So, because they didn't have the supplies they needed, we really focused on making sure their requests were taken care of. They sent messages, letters and cards thanking everyone for the masks. Giving back to the people that have given so much to the country was nice.
Making a difference at a distance
Originally, Amy made masks to protect her sister. But, because she saw a greater need, she collaborated with others and helped more than 200,000 people become safer in a time of fear and uncertainty. Many other Assurant employees are doing the same, partnering with friends, family, strangers and charities to curb the impact of the pandemic on their communities. While their individual efforts might seem small, they've made a huge impact together. The COVID-19 pandemic might feel like too much for us to manage as individuals, but it's not too much for all of us together.
*Assurant Cares is the Assurant 's community volunteering and giving program funded through the Assurant Foundation which focuses on charitable initiatives dedicated to protecting, connecting and inspiring. We support our communities through giving and volunteerism, which increases employee engagement and reinforces our commitment as a responsible corporate citizen.
Our Assurant Cares portal enables employees to track their volunteer hours, request matching gifts, make payroll deductions to charitable organizations and more. This platform provides access for all our global employees to engage in their communities and support causes that matter to them.