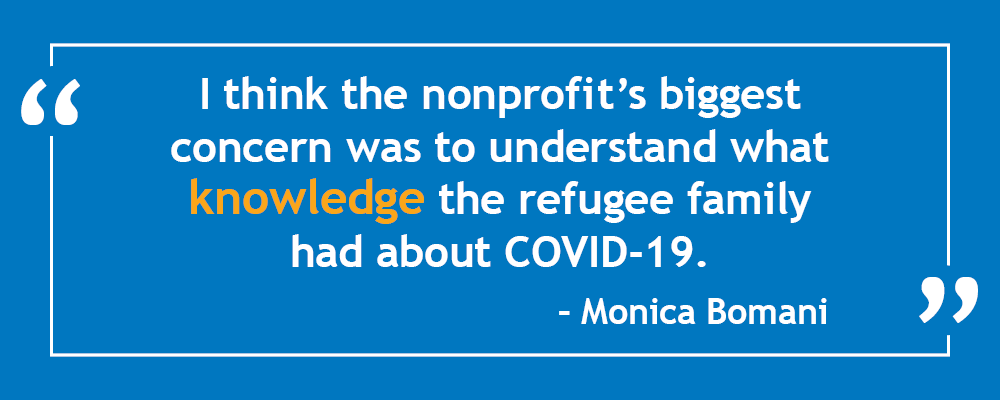 Supporting community service efforts is deeply rooted into Assurant's core values. We actively partner with core nonprofit organizations to strengthen the communities where we live and work worldwide to ensure equal opportunity, nondiscrimination and fair treatment to all. In 2019, Assurant employees donated more than 20,000 volunteer hours to charitable organizations. And, while the impact of the COVID-19 pandemic means we can't build houses with Habitat for Humanity, run side-by-side for a marathon for the American Cancer Society or volunteer in-person at local food banks and shelters, our employees are encouraged to help others across the globe in virtual and connected ways.
One such person is Monica Bomani, Assurant's director of community engagement and giving. Through a virtual volunteering opportunity, she used her dynamic language skills to help translate for a refugee family from Congo navigate the complexities of a new culture and survive amid a pandemic. Monica not only helped them stay safe and healthy through active communication, but also made a connection that helped a family from a world away feel right at home.
We interviewed Monica to learn more about her experience as a virtual volunteer to translate for refugees during this pandemic.
What inspired you to be a virtual volunteer as a translator for refugee families?
Monica: When the COVID-19 pandemic unfolded, the Assurant Cares* team had to quickly figure out ways to continue to engage our employees in Assurant community service volunteer activities. I did some research, networked with my peers at other companies and worked with our partner Benevity, who manages our employee volunteer and giving portal, to put together a series of virtual Assurant community service volunteer opportunities. And, because I manage the Assurant Cares portal for all employees globally, it only made sense I try them out first.
So I vetted the volunteer engagements and I fell in love with one opportunity specifically, called Tarjimly. It's an online volunteer service that asks multilingual people to serve as translators for nonprofits helping refugee families. I've lived most of my life in the U.S., but I'm a native of Tanzania. I'm fluent in Swahili and, when I was in college, I studied French so I have intermediate French skills as well.
How did the process for your virtual volunteer opportunity work?
Monica: So the way it works is very simple. You just download an app to your phone, put in the language skills that you have and a nonprofit contacts you when they need a translator.
A nonprofit called One World One Love contacted me to support a family from the Congo that had resettled to Elizabeth, New Jersey, about a year ago. [The organization] wanted to know how the family was doing; if they were aware of the COVID-19 pandemic and were safe. So I accepted a call between myself, the father of the family and the nonprofit representative.
What was the family's biggest concerns concerning the pandemic? Was it about maintaining clear lines of communication or was it more about finding resources such as food, medicine or employment?
Monica: I think the nonprofit's biggest concern was to understand what knowledge the refugee family had about COVID-19. They wanted to know how the family was doing, if they were aware of the pandemic, if they understood the shelter-in-place regulations in New Jersey and other key information.
They also wanted to make sure that the family understood there were resources where they could get food and other supplies. Finally, they wanted to see if any members of the family had health issues. Fortunately, no one was sick.
Did you receive any feedback from the family afterward?
Monica: Yes! The family was so happy. They're from Congo, where they mainly speak a native language called Lingala as well as French. But, because Congo borders Tanzania (where I'm from), some people from the northern part of Congo can speak Swahili. The father spoke Swahili and he was excited to speak with someone in a language from his home country. I requested that, moving forward, if the nonprofit needed a translator for the family, that they would please call me to support them.
Have you done any additional translations for the family since that initial correspondence?
Monica: About three weeks later, they called me again. This time, the nonprofit was sending checks to the refugee family. I think it was about $300 and they wanted to verify the address and make sure that the father understood that they would receive a check to buy food or pay utilities during the pandemic.
How did you feel about the volunteer opportunity?
Monica: It was really rewarding for me! Being from another country, I can imagine, if you're in the United States for the first time, you have to deal with understanding a new society, a new culture and how things operate in your new environment. On top of that, to have to do it during a pandemic would be really frightening. It felt really rewarding that I was able to provide translation services.
It's wonderful that you've been able to connect so closely with the family using your own background and skills, as well as your professional expertise and passions. It sounds like an incredible experience.
Monica: I really enjoy it. And I'm happy to translate for other families but, you know, for some reason, I think after the first conversation with that specific family in New Jersey, we just immediately had a connection. We formed a bond, so I'm hoping to be able to continue to support them even after the pandemic.
And this volunteer opportunity was an option you identified through the Assurant Cares* portal?
Monica: Yes. This is one of the virtual volunteer engagement opportunities available. I think we have about five different opportunities available that you can select from depending on your interests.
Are these virtual volunteer opportunities only available through Assurant or can anyone volunteer?
The virtual opportunities are available to anyone who would like volunteer. There's Tarjimly, which I've discussed here. There are also a few opportunities I vetted for Assurant employees that I think would be a great opportunity for anyone.
1. Career Village: Career Village offers professionals the opportunity to mentor kids who want to be just like them when they grow up. The agency's mission is to democratize access to career information and advice for underrepresented youth. You can make a difference by just answering questions that students submit online.
2. The Trevor Project: The Trevor Project supports LGBTQ youth under 25 across the U.S. struggling with issues like LGBTQ identity, depression and suicide. Volunteers will be trained to properly advise youth struggling in these situations through call or text.
3. United Nations Online Volunteering: The United Nations is looking for volunteers interested in using their unique skillsets to support charitable organizations around the globe. Organizations include charities working for peace and development, UN agencies, governments, public institutions and more. They have a strong need for art and design, writing and editing, outreach, advocacy, project management and many other services.
Assurant employees receive up to eight hours of paid time each year so they can volunteer with organizations that matter to them personally. Did you use your paid volunteer hours for this opportunity?
Monica: You can use your paid volunteer hours to participate in the virtual volunteer opportunities on the Assurant Cares portal. However, I chose not to use my paid time because I actually was doing the volunteering over the weekend. I did log my volunteer hours on the Assurant Cares portal. I do plan to take time off from the workday to support that family in the months ahead.
Aligning with Assurant's Core Values
Monica's virtual volunteer experience as a translator made a huge impact on the lives of refugees, helping them find not only resources but also comfort in a time of distress and uncertainty. And Monica is just one of many Assurant employees making an impact during the COIVD-19 pandemic — and inspiring all of us to help in ways big and small.
Assurant Cares is Assurant's community volunteering and giving program funded by the Assurant Foundation that focuses on supporting charities, dedicated to protecting, connecting and inspiring. We support our communities through giving and volunteerism, which increases employee engagement and reinforces our commitment as a responsible corporate citizen. See the 2020 Assurant Social Responsibility Report for additional insights on how Assurant makes a difference in the communities we serve.
If you're an Assurant employee interested in virtual volunteer opportunities, visit the Assurant Cares portal. Our Assurant Cares portal enables employees to track their volunteer hours, request matching gifts, make payroll deductions to charitable organizations and more. This platform provides access for all our global employees to engage in their communities and support causes that matter to them.