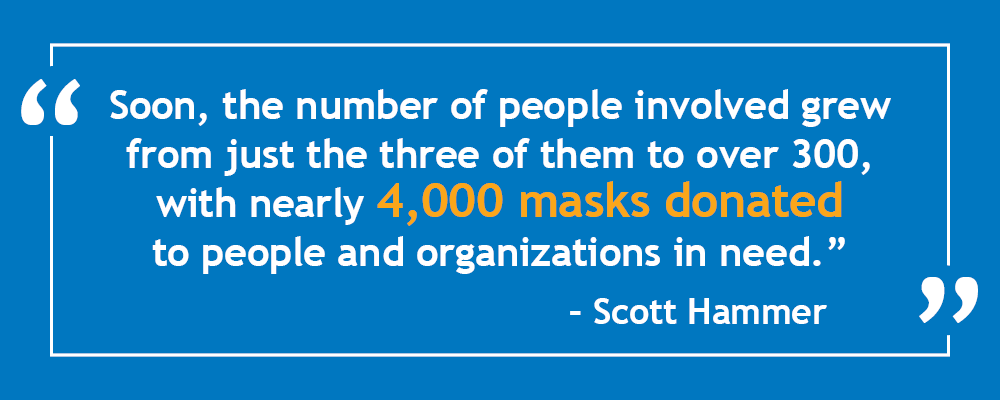 At Assurant, social responsibility means caring about our communities, our colleagues and our customers. Assurant donates millions of dollars to charities around the globe, but it's through our employees that we make the biggest impact. Assurant volunteers act every day to uplift the communities where they live and work.
Meet Tammy Walker, senior channel optimization executive (COE) located in Phoenix, and her inspiring colleagues. Tammy and her team strive to improve client performance at Assurant through a variety of delivery channels. But they also extend their energy beyond clients to the community. Through their Channel Optimization Cares initiative, the team donates time and identifies charitable causes close to their hearts to receive special grants from the Assurant Foundation.
In light of the COVID-19 pandemic, Tammy recently directed that same energy and resources toward sewing masks for essential workers and helping people stay safe in a time of uncertainty. What initially started as a small, grassroots effort has grown by leaps and bounds. She has involved over 300 individuals and the group has assembled more than 4,000 masks.
Assurant interviewed Scott Hammer, channel manager of the Channel Optimization team, to learn more about Tammy's efforts to support her community. Through that conversation, we've discovered even more ways that team is making a difference as Assurant volunteers.
Scott, can you tell us what inspired Tammy to start sewing masks?
Scott: Absolutely! First of all, Tammy Walker isn't one to talk about her volunteer work. She doesn't like recognition. She believes if she has the resources and the time to give back, then she's obligated to do it. Not to get a pat on the back or an award or anything, but literally out of the goodness of her heart.
So I believe it was the first or second week of March when the COVID-19 crisis started to really hit the U.S., and there were shortages of protective gear for essential workers. Tammy saw the need and decided to start sewing masks for local essential workers. So, on March 21, she and two of her friends started sewing masks and it's just grown from there.
The team has donated masks to Arizona's Luke Air Force Base, Phoenix Children's Hospital, senior centers, Uber and Lyft drivers, correctional facilities, firefighters, policemen, group homes, childcare facilities taking care of the front-line workers, children and more. Basically, anyone who asks for a mask can get one [because of her efforts].
How did Tammy manage to grow her network?
Scott: I think she did a little bit of recruitment on social media through their Facebook group, Surprise AZ Mask Sewers, but it's mostly been word of mouth in the Phoenix area. The people that she initially partnered with were two women that had the skills to sew and just wanted to give back. Soon, the number of people involved grew from just the three of them to over 300, with nearly 4,000 masks donated to people and organizations in need.
Families and fathers and sons and grandmothers are all working together to create the masks. They're taking orders now for public-facing businesses that need them. And it's all donated. It's all about giving back in a crisis, in a time of need. It's pretty amazing for it to start with just three people and to grow into what it's become. It just blows my mind every time I think about it.
Tammy mentioned that they have families making masks in almost in an assembly line. Can you tell us anything about that process?
Scott: Just that they have different people doing different tasks. Some sewing, some cutting fabric and some making deliveries. I know that that they're making the masks with the wire that folds over the nose and a pocket for filters. They're also cutting up vacuum bags with HEPA filters to insert into the masks to provide another layer of protection. It takes it to another level.
How have these masks made an impact in her community?
Scott: Essential workers like nurses have shared how much they appreciate her work. We've all heard the stories of the hospitals reusing masks just to stay safe. The nurses were running out of masks, so to have someone donate them to the hospital means a lot not only to them, but also to their families. Not only were they keeping someone's mother, sister, aunt, doctor, nurse or practitioner safe, but the masks made it safe for them to go home to their families.
Scott, you and many other Assurant teams are also very involved in giving back to your communities. Could you tell us about your Channel Optimization Executive Cares initiative?
Scott: Yes. So COE is our front-line team that works with the clients directly. My colleague, Anthony Dang, asked the Assurant Foundation to support a special $1,000 grant committed per COE team member in 2020 to give back to the community. He's done a fantastic job organizing the program and motivating the team. Our local volunteer efforts and the special grants go a long way and the effort has become bigger than we ever thought it would.
We have people making and buying blankets for babies. People are doing virtual Girls on the Run, Habitat for Humanity, supporting the ACES COVID-19 Fund* and more. We're actively searching for ways to give back. And this comes down from our VP, Andrew Bradt, who feels strongly about community giving. But what we realized is: a lot of people were already doing this stuff without many others knowing. Which is kind of the point — we're giving back. It's not about getting recognition; it's about the personal, internal obligation to give back to our communities. And it's pretty amazing.
There are around 69 employees across the U.S., Canada and Puerto Rico [participating in the special COE Cares initiative in 2020]. Roughly, our goal is to donate 600 volunteer hours. With the $1,000 grants from the Foundation combined with our personal donations, we're approaching $200,000 in funds contributed.
How do you plan to use your grant money from the COE Cares initiative?
Scott: I asked to use my grant money towards a charity near and dear to my heart, the Ronald McDonald House. Three years ago, we had our baby twins. My wife had to go in the hospital at 23 weeks and gave birth at 30 weeks. Our twins weighed just three pounds and were placed in an incubator for 3 months. Living an hour away, we needed a place to stay. They put us up at a hotel near the hospital. They gave us a room, they gave us food and they gave us transportation back and forth to the hospital. They even entertained my kids! We went to Laser Tag and to see the Harlem Globetrotters.
It was something that made the hardest time in our lives tolerable. It allowed us to focus on what was important. Not what are we going to do about food, or what are we going to do about missing work. We could focus on taking care of our babies.
After doing so much for my family, I really wanted to give back and help other families trying to take care of their children. On my own dime, I've sponsored dinners, which is the very least that we could do for what they did for us. But, through the COE Cares initiative, I asked the other COEs to donate their $1,000 toward the Ronald McDonald House, volunteer at their facilities and host a dinner for all the families in the house. That's currently on hold because of [the COVID-19 pandemic]. But it's coming. We just don't know when.
Assurant Volunteers Making a Difference However Possible for Essential Workers
For Tammy, Scott and the rest of the Channel Optimization team, giving back to their communities is deeply rooted in their values. At Assurant, this philanthropic spirit isn't an anomaly — it's commonplace. Employees across the organization are encouraged to support their local communities and charities through our Assurant Cares* community and charitable giving program. In turn, Assurant leverages resources of the Assurant Foundation to support our employees' philanthropic efforts through numerous grants, programs and volunteer opportunities. And, together, we're a powerful source of good in the world.
*The Assurant Cares global giving and volunteer engagement reflects three focus areas aligned with our broader company strategy.
• Protecting: We help people access safe places to live and thrive.
• Connecting: We strengthen communities where we operate, especially when disasters strike. This includes supporting charitable partners in ways that enhance their capacity to serve.
• Inspiring: We encourage and prepare diverse talent and innovative leaders for the future.
Employees are able to access the Assurant Cares portal, which enables them to track their volunteer hours, request matching gifts, make payroll deductions to charitable organizations and more. This platform provides access for all our global employees to engage in their communities and support causes that matter to them, both through their computers and mobile devices.