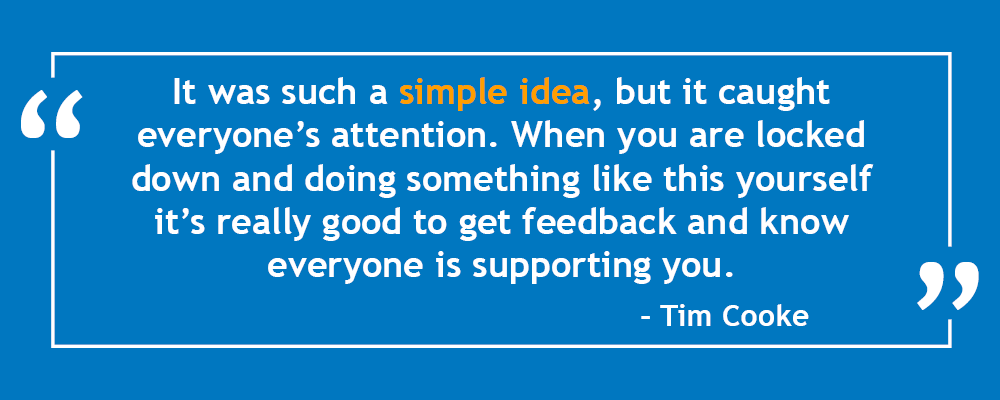 The Virtual Cycle Inspiration
Like so many things in 2020, Tim's adventure started in March with a government advisory for everyone to work from home. Assurant quickly complied and Tim found himself sheltering in place with a vacation coming up the second week of April. "I was thinking about postponing, thinking we'd only be out five or six weeks; but my boss encouraged me to take the time, so I did. Only I couldn't go out! While I was wondering how to spend my holiday, I got the idea for the ride."
His inspiration came from two sources. One was the NHS Charities Together fundraiser created by Captain Sir Thomas Moore, popularly known as "Captain Tom." In April 2020, the captain set out to complete 100 laps of his garden at the rate of 10 per day. By the time it was over, "Tom's 100th Birthday Walk for the NHS" had raised over 30 million English pounds. Tim's other source of inspiration was television images of the suffering brought on by the COVID-19 pandemic and tales of the same from a friend working in nursing.
"I thought, 'I can do something to help,'" Cooke recalled. At about the same time, the London marathon was canceled and people were encouraged to come up with creative alternatives involving the numbers two and six (as a nod to 26, the number of kilometers in the marathon).
Tim already had a bike he used regularly to keep his muscles strong as part of living with cerebral palsy. "I got to thinking that I could cycle — indoors, of course — 260 kilometers and ask for sponsors. I worked out that Crewe, where I live, and Dublin are that far apart. I set up a GoFundMe page to get the word out, with the goal of raising £260."
The Virtual Team
Tim's Assurant colleagues got involved when a friend and former coworker spotted what he was doing on social media. The friend told an HR associate they were still in contact with, who got him help with sponsorship and publicity.
"It went far and wide from there, really," Cooke said. "It was such a simple idea, but it caught everyone's attention. When you're locked down and doing something like this yourself, it's really good to get feedback and know everyone's supporting you. That drove me on."
The Virtual Cycle Ride for Community Impact
Tim started his ride on May 3 and finished on May 17. Completing such a long distance wasn't an easy task, especially in the beginning. "About 100 kilometers in, I was thinking, 'Oh, that's a long way to go yet,'" he said. Keeping his endgame in mind helped him make it through. "If you decide to do something, you really have to do it and see it to the end, and look at the bigger picture: the goal. That's what got me through some of those times when it was getting tough."
Tim also relied on the support of his sponsors and followers during the long ride. To keep them up to date, he posted pictures of himself every time he hit a milestone. "At first, I just posted pictures of the odometer, but then a friend suggested I post pictures of the places I would've been if I had actually been on a proper ride. I'd post a picture and say, 'I've cycled 20 kilometers so I'm now in Nantwich. Only another 240 kilometers to go!'" Cook laughed. "There were a lot of sweaty pictures!"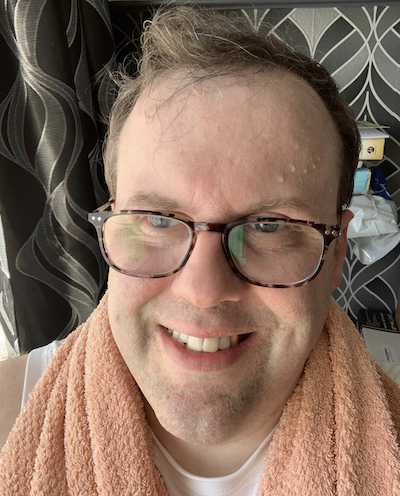 Arriving to the Finish Line
Things got easier as the ride continued. "I was getting fitter every day," Cooke said. "By the time I had about 50 km to go, it got easier. I could see the end in sight. On the last day, when I finally crossed the line, I posted an action video of the finish."
The result of Tim's efforts, along with support from his colleagues, community and friends, far exceeded his original goal. The cycling marathon raised not £260, but £1,545 for the NHS hospital in Crewe, and the funds were matched by the Assurant Foundation. The money was donated to the hospital's charity fund and used to improve the rest areas for hospital staff. This was a sorely needed move as the staff was extraordinarily busy and all leaves had been canceled
.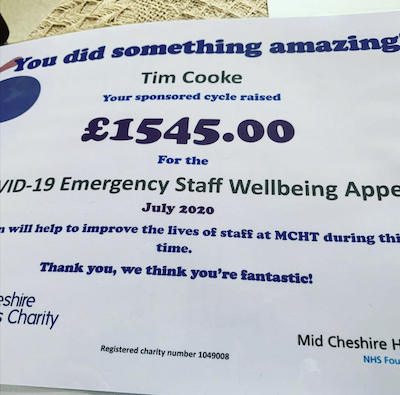 "I was very glad when they asked if they could spend it on that. I'm really impressed with all they've done, really," said Tim. "It's good to say, as a community, that we're behind you and we support you while you're putting your life on the line for us. Just to have the opportunity to rest for a half hour is so important."
The Lessons
Though he's accomplished so much and has even been interviewed on local radio about his ride, Tim remains modest. "I kind of get embarrassed, really," he said. "It's nothing to do with me; I've just done a little tiny bit to try and help. I hope we can get to the end of this whole situation and get back to some kind of normality. But it'll be because of people like the ones we've been supporting that we'll get there."
Tim's selfless nature and belief in teamwork come out in his work at Assurant as well as in his free time. "I've been with Assurant for over 11 years," he said. "I've got some great friends that work here. It's a great place to be and I think I'm blessed to work with so many wonderful people. Without a team behind me, I wouldn't get very far. That's kind of why I've stayed in this position so long; it's the people I work with and the job that I do. It kind of suits me and I guess I suit it. The other day, my manager said you've got to enjoy what you do because, at the end of the day, you spend more time at work than you do with your partner. I'm fortunate to have a job I love."
Tim's attitude and his cycling initiative represent all four of Assurant's core values:
Common Sense: His idea for a fundraiser was simple and straightforward.
Common Decency: His motivation was grounded in kindness.
Uncommon Thinking: Although simple, his idea was original.
Uncommon Results: Tim raised six times more money than he had started out to!
In these challenging times, it's our values and our commitment to being positive that keep us grounded. "Captain Tom has a similar kind of attitude that I do," Tim said. "He's obviously had issues to deal with, as have I, but you have to make the most of life and be positive about what you can do instead of dwelling on what you can't do."
More Information
Assurant Cares is Assurant's community volunteering and giving program funded by the Assurant Foundation that focuses on supporting charities, dedicated to protecting, connecting and inspiring. We support our communities through giving and volunteerism, which increases employee engagement and reinforces our commitment as a responsible corporate citizen. See the 2020 Assurant Social Responsibility Report for additional insights on how Assurant makes a difference in the communities we serve.