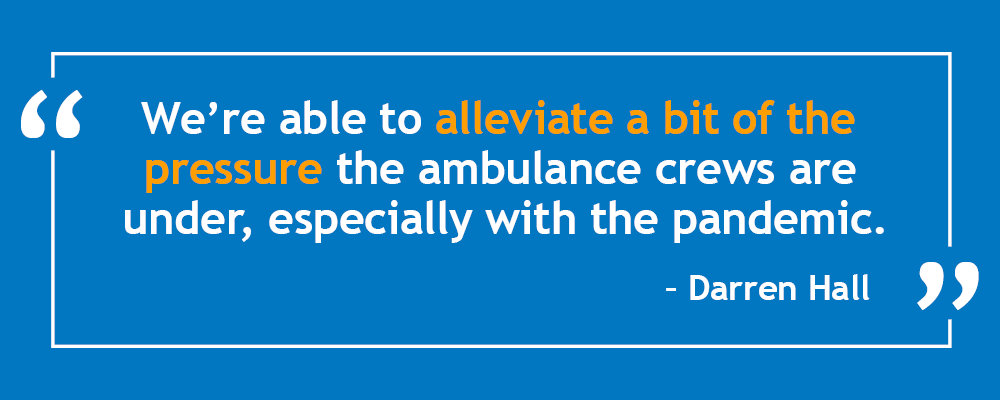 Since the beginning of the COVID-19 pandemic, first responders have gotten a lot of attention — and for good reason. These are people who expose themselves to infection risk every time they answer a call. And they do it on our behalf, never asking for thanks. Imagine if it were you during this time of widespread disease.
Now imagine if you were doing it unpaid.
Darren Hall doesn't have to imagine it. He does it for real. Darren, who works as a business analyst in supply chain at Assurant, also volunteers as a first responder in the town of Crewe, England.
Volunteer First Responder
Darren's interests were focused on serving the community long before coming to Assurant. "I started with first aid when I was 16," he said, "in an extracurricular class in school." As an adult, Darren served as a volunteer police officer, but that ended when he had a family. Still interested in service, he became a volunteer first responder with the National Health Service hospital in Crewe as soon as the opportunity came along.
"I started the volunteer first responder unit in Crewe," Darren said. "We're able to alleviate a bit of the pressure the NHS ambulance crews are under, especially with the pandemic." Darren responds to cardiac arrests, heart attacks, strokes and other emergencies, providing life-saving care, often before the full-time ambulance crews arrive. "The benefit of this job is working with the ambulance crews and gaining that extra skill set. More important, it's being able to attend to the local community and give something back to them," Darren said.
Just what he can give back has, like so many other things, been altered by the pandemic. "Our role was reduced slightly because of the infection risk, but we were soon provided with further training around the protective equipment, so there were new opportunities to provide different services. I learned to do swab testing, so I was able to go out with the paramedics and do COVID-19 testing in the community. We helped people get tested if they had symptoms, especially if they were key workers."
Darren's travels to test and emergency sites require a vehicle. When he started as a first responder, his family car doubled as his ambulance. "It was quite a tussle between first responding and the family side, since we only have the one car," he said. The situation was resolved when the Crewe Town Council and Cheshire Police and Crime Commissioner, impressed with his work, arranged to have an ex-fleet car donated by local police. The car was outfitted as an ambulance and the council paid to insure it. They also provided Darren with some uniforms.
"Now there's a vehicle, that I, or anybody else in the first responder group, can use. The uniform is a big help, too. If you're wearing it, you don't have to spend time explaining what you're doing at an emergency scene. You can just get to work."
When asked about standout cases, Darren recalled a couple immediately. "The first cardiac arrest I attended turned out to be a relative of somebody I knew, so it had more of a personal touch to it," he said. "As often happens, there wasn't a positive outcome but, when I attended the funeral, seeing how grateful the family was to me and the ambulance crew was very rewarding. Donations from the funeral all went to the ambulance service."
"I'm also proud to have been recommended for a commendation by a consultant paramedic. That was for another cardiac arrest I attended. It was quite a difficult job, and the recommendation assures me my efforts are really doing some good."
Driving Additional Community Support
Darren's work in the community extends beyond his role as a first responder. He found support at Assurant for the aid that provides refreshments free of charge to ambulance crews at the Crewe hospital. "We partnered with Assurant on this project," he said. "I just spoke to my director and he offered to use some of our budget to provide refreshments." The ambulance crews, who work 12-hour shifts, welcomed the support. "The crews are quite appreciative of the volunteers who work on the wagon," Darren said. "And it's a good chance for them to get to know emergency workers. We were written up in the ambulance service newsletter and it's great to see the volunteers getting that kind of recognition and respect."
Darren also helps make sure that people in the community are ready to use emergency equipment, and that the equipment is there when they need it. "We have portable, publicly accessible defibrillators in the area," he said. "One of my jobs is to audit those and be sure they're available and ready." He also provides familiarization sessions for people who haven't used the units yet. "I'm happy to give my time and provide training to give people the confidence that they'd know what to do in that situation," Darren said. "It's also a good way to bring people together."
Assurant Employee Volunteering
Darren has been with Assurant for nearly a decade, spending most of that time with the supply chain team. His most recent assignment is helping to implement automation for a new warehousing site that will support device care. It's a substantial workload, but he still finds the time to volunteer thanks to the company's array of schedule options that helps employees like him balance work and personal responsibilities. "The company has been very supportive of my volunteer work," he said. "They were happy to provide additional time, especially when I had to do training on an ambulance. That was four days of 12-hour shifts and Assurant gave me that time out of work so I didn't have to use annual leave."
Lessons from Community Support
For anyone interested in a first responder role, Darren is enthusiastic about the rewards. "I'd say to go for it if you want to — don't be afraid of the unknown. It's really rewarding knowing you've helped someone."
Darren has gotten generous support from both social media and the news media, including an article in the Crewe Nub News about the donation of the ambulance. But, for Darren, volunteering isn't about getting recognition. "The main thing," he said, "is to know you're making a difference."