Many property managers are looking for ways to address the impact of the COVID-19 outbreak on the rental landscape. Beyond additional safety measures, there are a few ways you can help attract and maintain long-term renters. In our latest nationwide study, we spoke to renters about their expectations regarding safety, how the pandemic has impacted their finances and what their evolving preferences are. In this blog, we'll discuss some of our top findings and suggest ways you can create a deeper and stronger connection with your renters. By understanding renters' current priorities, you and your team can make the right adjustments for your community.
Use Virtual Tours to Highlight Features Renters Care About the Most
A majority of the renters we spoke to (77%) would consider virtual walkthroughs, interviews and contracting without seeing the property in person. And 60% would consider signing a lease solely on virtual property tours and online info.
Now, as renters are looking at new rental properties, they're focused on different features and aspects of living than they were before the pandemic. Renters are prioritizing lower density areas, more outdoor space (even if it means having a longer commute) and larger living space to help with work-from-home transitions, at-home exercises and the like. Focusing on property and amenity features that account for these things can help attract renters.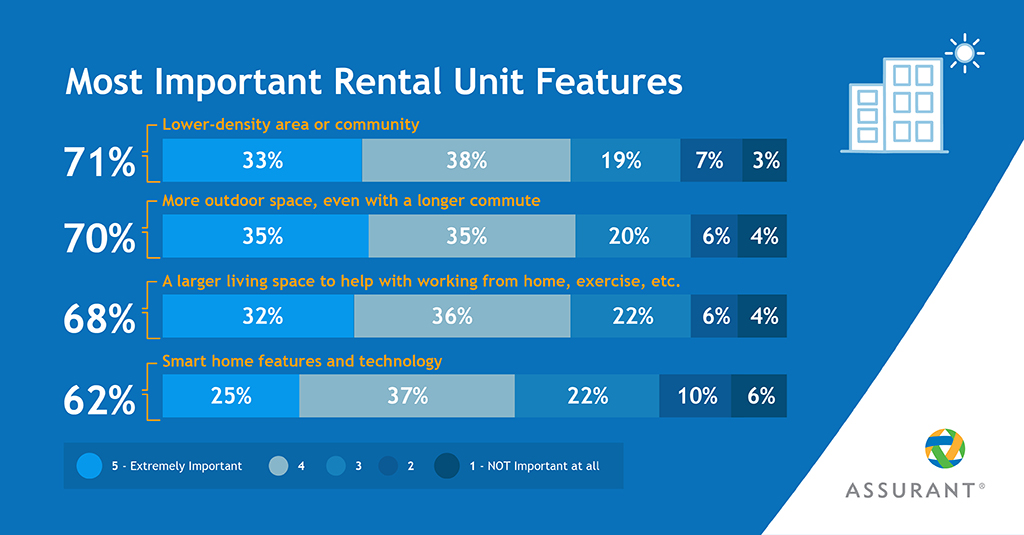 Address Financial Concerns in the Rental Market
As the economic landscape changes, renters are more focused on cost savings and adjustments to their rental contracts. Our study found that the typical renter's top concern is having a more affordable rental. Their second priority is lowered move-in costs.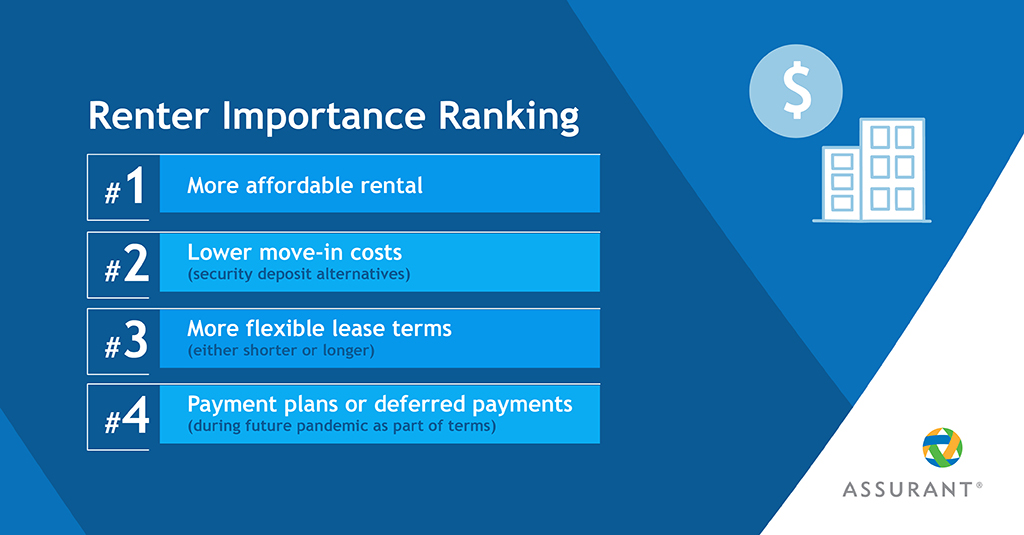 Make it Easier for New Residents to Move In
When it comes to putting a deposit down on a new rental, 77% of people indicated that a surety bond would be an appealing alternative to a traditional security deposit. At the same time, surety bonds can provide property managers with coverage to take care of lease obligations like lost rent and physical damage. Introducing alternatives at move-in can help new renters feel more secure in signing a lease while still providing the protection you need for your properties.
Make it Easier for Existing Residents to Stay
For renewals, consider flexible lease term contracts to alleviate some concern about long term finances. About 80% of renters we talked to would be more likely to renew the lease for their current apartment if they were allowed to shift to a shorter-term lease without raising their monthly rent. While 43% of surveyed renters said they're likely to look for a more affordable unit in a different complex, 26% mentioned switching to a unit in the same community. So, if your renters aren't looking to renew, it may be best to talk to them about their concerns and address their needs by showcasing other options within your complex.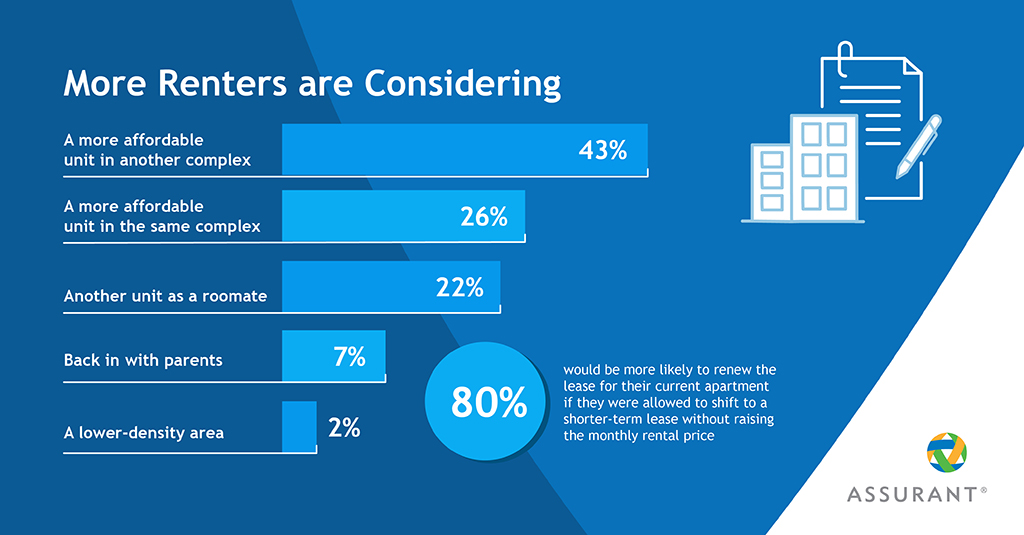 Ensure You're Meeting Renters Safety Expectations
We found that 71% of renters believe their property managers are doing enough to support them during the pandemic. Of that 71%, renters showed support for safety measures such as:
Closing common areas of property and encouraging social distancing
Closing the leasing office and implementing digital communications
Increasing cleanliness and sanitation of facilities
Increasing communication overall
Requiring leasing and maintenance staff to wear masks and gloves
Helping provide supplies or necessities like cleaning wipes and sanitizer
Organizing virtual activities
Only 62% of renters feel that they're getting the right amount of communication related to the COVID-19 outbreak. So what does this mean for you and your staff? Keep addressing these concerns and communicating clearly with your community. Our survey shows that the top preferred method of communication is through emails. An email newsletter or consistent email updates about how you're addressing renters' safety could be beneficial for your community support.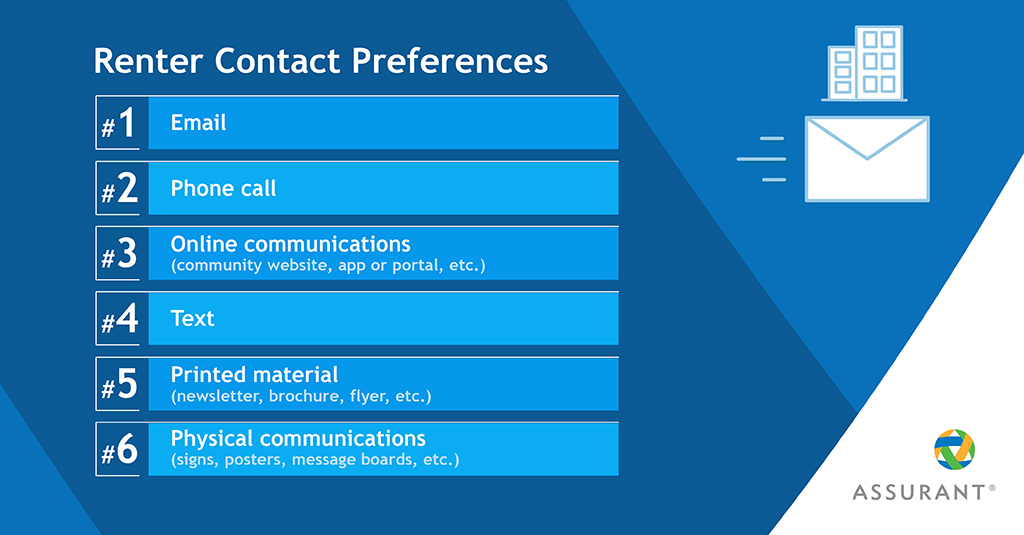 What's Next for the Rental Market
The pandemic will continue to change the way we work and operate but these changes can help you become a more innovative property manager. While analyzing this new data, think about how your team and company overall operate. Understanding this shift in renter priorities can help you identify even more opportunities for growth. And a comprehensive risk mitigation plan can help you tackle any additional unforeseen events while providing onsite assistance to your team.