As you work to increase occupancy rates, you might think the answer lies solely in the cost and location. But that's not the full story. What's inside your unit and around your property are a large deciding factor, too.
So what exactly are renters looking for? We conducted a survey to look into just what makes someone sign a lease or leave. Over 400 participants across the nation answered. Here's what they had to say: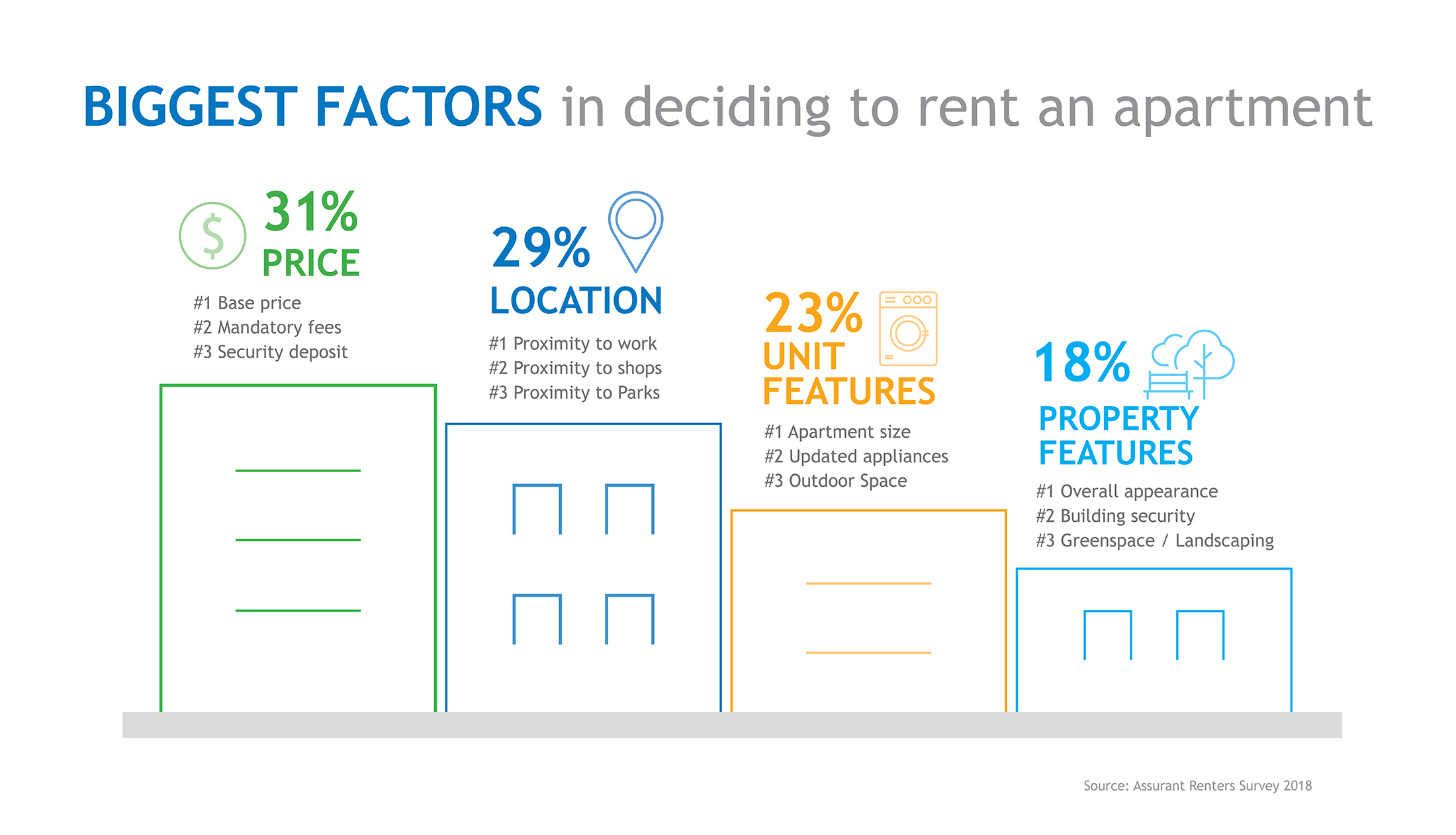 The Decision-Making Factors
Overall cost

Price is, historically, the make-or-break factor for renters. Not only does it determine if they'll move in, it also determines if they'll move out. Finding less expensive alternatives to security deposits or temporarily waiving mandatory fees could be a very appealing offer to prospective residents. Renters we surveyed said the base unit price was the most important consideration when choosing an apartment. But pricey security deposits and mandatory fees also made a big impact on their decision.

The solution? Instead of cutting into your profit margins, look at security bond alternatives to help residents lower their initial move-in costs.

Location

Renters we surveyed said short commutes to work, shopping and outdoor spaces topped the list, outranking proximity to friends and family or access to restaurants and entertainment. Outdoor spaces also popped up as an important factor for unit features. And green space was also listed as an important aspect in property features. This suggests that, before you start focusing on implementing high-end technology, you should bring more greenery to your property and apartments.

Unit features

Think renters are set on hardwood floors or units with lots of natural light when deciding where to live? Not quite. 59% of respondents said the size of their new home was the number one unit feature they're looking at. Our survey shows renters are also prioritizing outdoor spaces and premium updated design features such as appliances.

Property features

One of the biggest deciding factors in whether a renter chooses your property over someone else's is in how your property looks. While parking is an important amenity, their decisions are more determined by whether your building looks nice, if it has security and what your landscaping is like.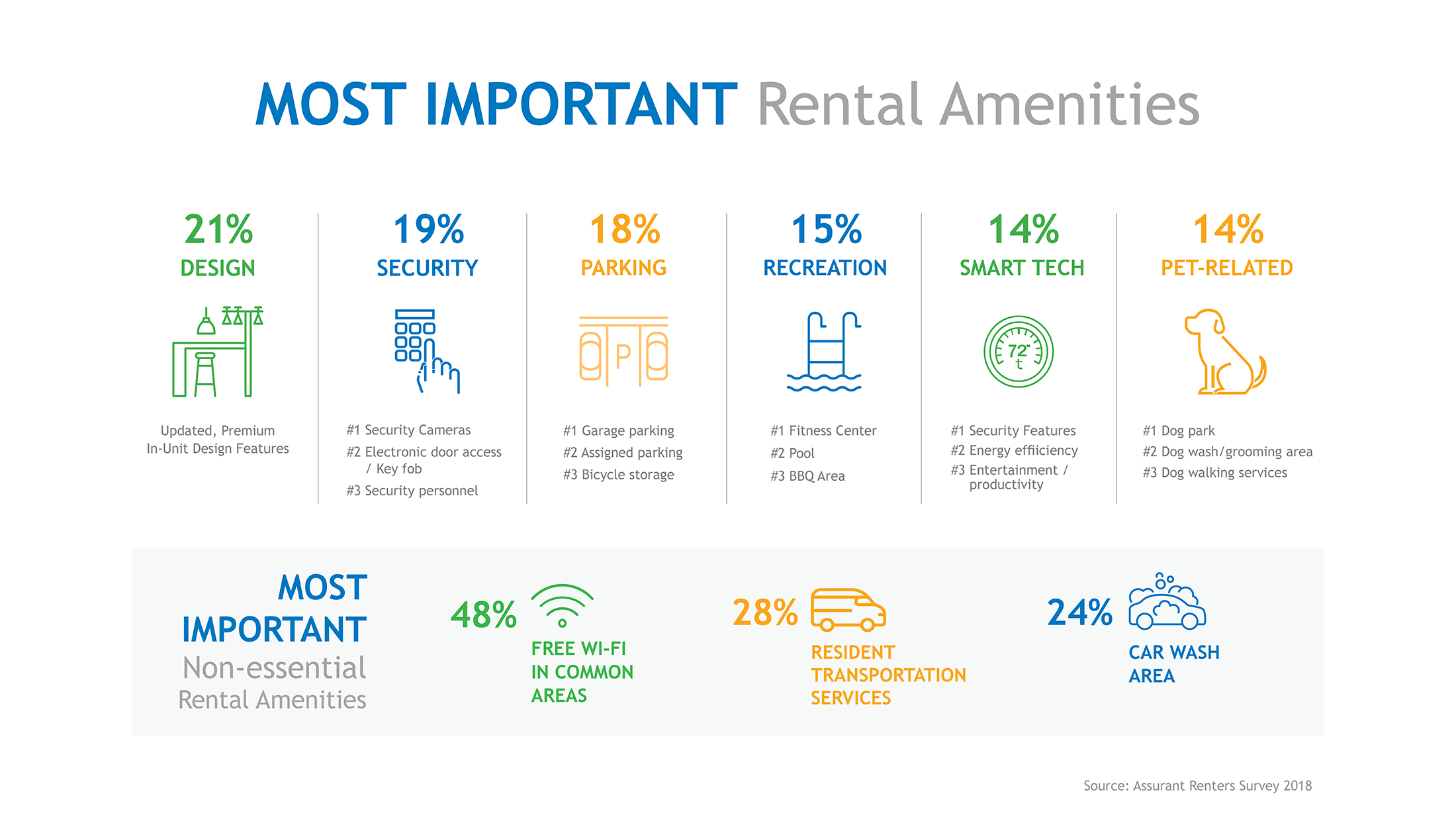 The Most Important Amenities
Style and security are top of mind.

While renters are looking for stylish spaces, they're also seriously considering safety. Security features are the second most important rental amenity for those we surveyed. And, even for renters looking for smart home capabilities, 38% said that they'd like the tech to be a security feature. From key fobs to security personnel on site, people want to know they'll be safe.

As a property manager, this may be an opportunity to encourage renters to see insurance as an additional benefit. A full renters policy will cover their belongings — and your property — in case of theft, vandalism or other perils. And it's an opportunity for you to generate ancillary revenue. Our programs let you bundle insurance payments with your rent all while earning more for your bottom line.

Parking is more important than a fitness center.

Parking proved to be the third most important feature for renters. Meanwhile, recreational amenities like fitness centers and pools came in fourth. Renters are primarily looking for either garage parking or assigned parking, with only 14% reporting bike storage as their most important parking commodity. And, in fact, additional transportation services even ranked second for the most important nonessential amenity residents want. And a car wash area also made the top three list for important nonessential amenities. So, if you're looking to develop an empty lot into a fitness center, our survey suggests you might want to reconsider and prioritize parking and transportation.

Energy efficiency matters more than entertainment technology features.

Our survey primarily consisted of millennials, a demographic known for their eco-consciousness. So it's no wonder that energy efficiency popped up on our list. Energy-efficient features were more important to renters than smart home tech that's entertaining or helps with productivity. Considering that many renters looked at proximity to parks and trails, outdoor spaces and green landscaping, it's becoming clear that eco-conscious upgrades are more than just a trend.
Answer 11 Questions to Determine Your Property's Risk
Insights like this can only come from decades of experience. Learn more about how we can help you connect and protect renters.