Here's how to meet their needs and turn them into advocates for your complexes
From discussing the way renters think and act to understanding their connected lifestyles, here's what we noted as the emerging trends and need-to-knows from the National Apartment Association's 2019 Apartmentalize Conference.
If renter demographics are your friend, psychographics are your BFF.
Attracting new residents and retaining existing ones starts with understanding your target customer. It's one thing to know your renter demographics, but it's equally important to keep track of their psychographics. These are the reasons why they sign a lease with you.
Simply put: Your target audience isn't just anyone who can cover the rent and has a good credit score.
Residents look for communities that fit their lifestyles, align with their values and resonate with their wants. While location will always be a factor, understanding the psychographics will ultimately have the biggest impact on your bottom line.
You may be wasting time pursuing residents who don't value the amenities you offer or spending money on community experiences your renters don't want. Everything from the upgrades you offer to the way you market your properties depends on you knowing your resident before they ever knock on your door.
So how do you discover what's motivating your renter? Just ask.
For every new prospect that stops by, Alexandra S. Jackiw from Hayes Gibson Property Services suggests talking to them about their habits, hobbies, values and pain points. Ask them things like:
What would you like to see during our tour?
What do you like the most about your current apartment?
What are three things that most stood out to you about our community?
What type of resident activities did you participate in at your current community?
Why did you decide to move?
The answers to these questions will help you:
Know what features they want most
Understand what they value in their home
See what compels your audience to tour your property
Learn about their hobbies and interests
Discover the pain points and challenges they currently face
The digital experience is everything
Roll out a digital welcome mat.
Your renters really live online — and it's impacting your bottom line.
Researchers from RentPath and WC Smith discovered that, when someone is first looking for a new place to live, 84% start online. Out of that group, 70% move to an internet listing service to look at different complexes and communities. To draw them in, you'll need to focus on presenting not just your amenities and floor plans, but also the emotional value your community offers (remember to use that psychographic data). As they narrow down their list, they also get more detailed in their research, turning to your website and social media pages for more information.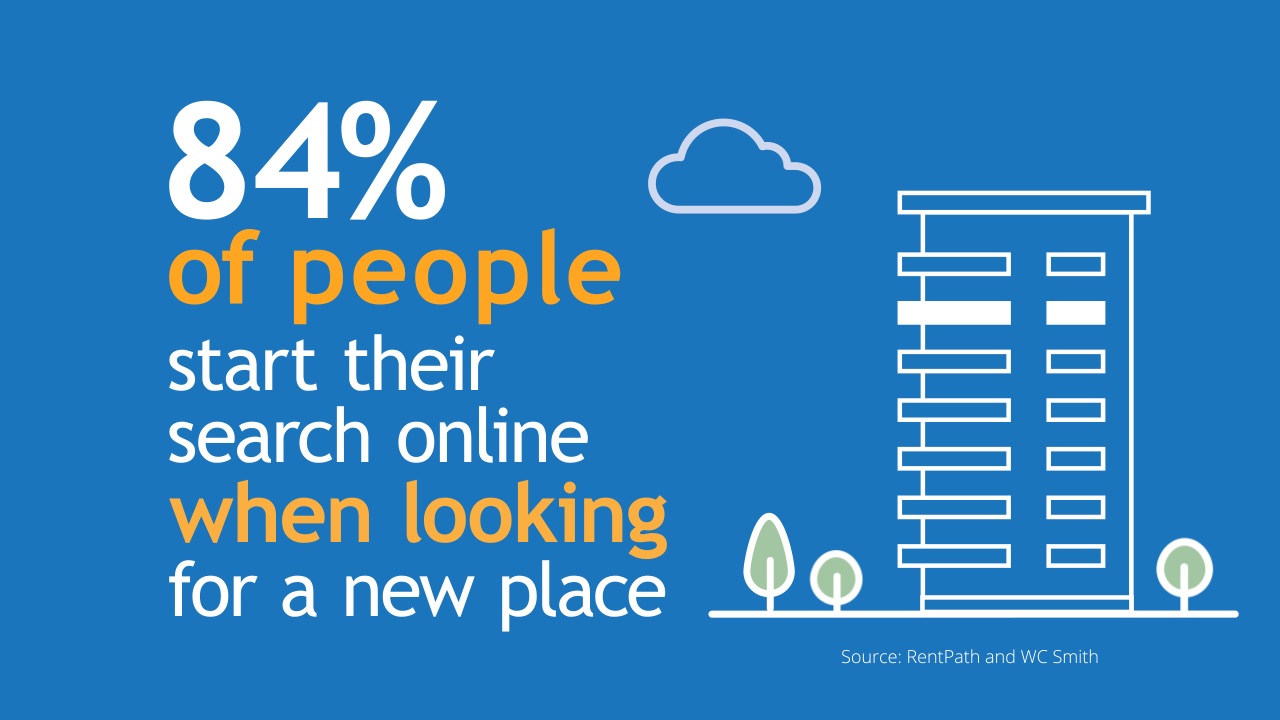 Help renters seriously consider your units by posting unique content and useful info like:
Photos of community events
Posts about nearby restaurants your current tenants love
Stories about your staff
Don't let renters talk behind your back by ignoring online reviews.
Outside of your website and social pages, people are talking about you. Are you listening?
Online reviews play a critical role in a tenant's decisions. In fact, to determine if they'll even contact your leasing office, potential residents look at four main factors in reviews:
When a review was posted
How many reviews there are
The star rating from reviews (they want to see at least four stars)
The way you respond to reviews
Even if you've never said "hello" before, your responses to online reviews are your first point of communication with new tenants — whether you thoughtfully recognize critical feedback or just leave a simple "thank you." These conversations make more of a difference to reviewers than you might think. 72% of renters said they didn't visit a community because of their ratings and reviews according to Holly Beckman, vice president of marketing and leasing operations at WC Smith, and Jen Anderson, director of marketing at RentPath.
Reviews are a great opportunity for you to cut through the noise and stand out by being polite and quick to respond.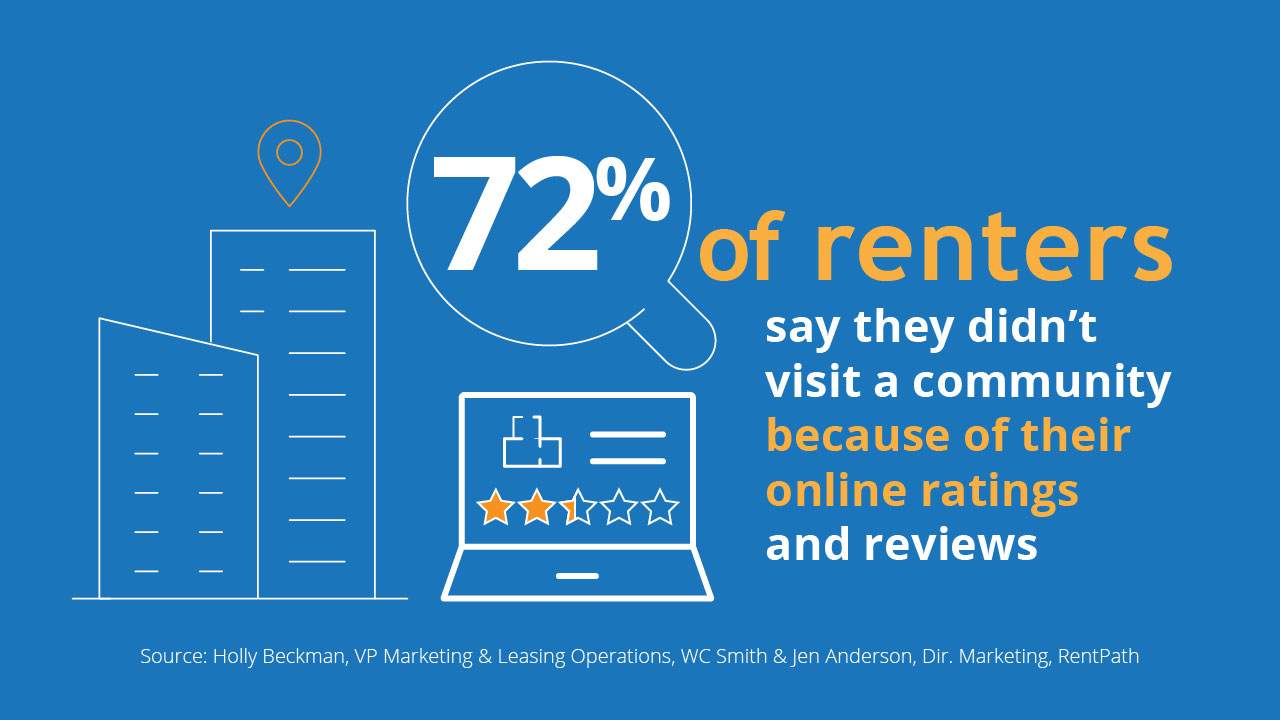 Virtual reality isn't just for video games.
When a future resident begins to consider your property, they turn to self-guided virtual reality tours and look for multiple communication options to get their questions answered.
As highlighted in the "10 Innovations That Will Change Everything" presentation, virtual reality isn't just for video games. It's an innovative feature that benefits both you and the resident. When a resident has easy access to previewing your apartments, they're more likely to feel confident in their decision to move forward with your leasing office.
But here's the key. Your office still needs to be available through multiple channels. Beckman and Anderson said that 75% of renters who reach out to a community never hear back. And more than 40% of their calls go unanswered onsite. Your digital presence will do a lot of the heavy lifting for you — but you and your team still need to be present when it's time to take things offline.
Exceed their expectations by making online payment even easier.
Financial technology has transformed the way people interact with their funds. With just an app, roommates can split utilities and groceries, or manage multiple budgets. Going back to the psychographics of a consumer, people use this technology because it eliminates pain points and aligns with their lifestyles. At every step, you and your team need to be focused on developing a great customer experience — and FinTech can help.
That's one of the reasons we developed an innovative solution which allows residents to bundle their renters insurance payments right into their monthly rent. By focusing on the customer's experience, our clients see double the participation rate in their renters insurance programs.
Putting the customer first will help you build loyalty among your residents and encourage positive reviews when they move out. It's a cycle that can help generate hundreds of more residents — and it all starts with blending your digital presence with CX in mind.
We live in the Connected Now and your properties should, too.
The internet has birthed the Connected Now, an ecosystem built on integrating our devices and our lives. Our homes, cars and devices are incorporated into our lives in ways that weren't possible just a decade ago. And that impacts the way future tenants look at your properties.
Just like optimizing the digital experience helps differentiate your property, so does creating a more connected environment that aligns with resident expectations.
Prospects equate efficiency with quality. Residents want to manage their home through their devices, just like they do with everything else. Preinstalled fiber optic internet and Alexa-controlled lights are quickly becoming necessities, not amenities. The easier it is for a resident to plug in and control their locks, lights, thermostats, etc., the bigger the return you'll see. A recent Assurant study found that 63% of study participants would be willing to increase their monthly rent for a smart home.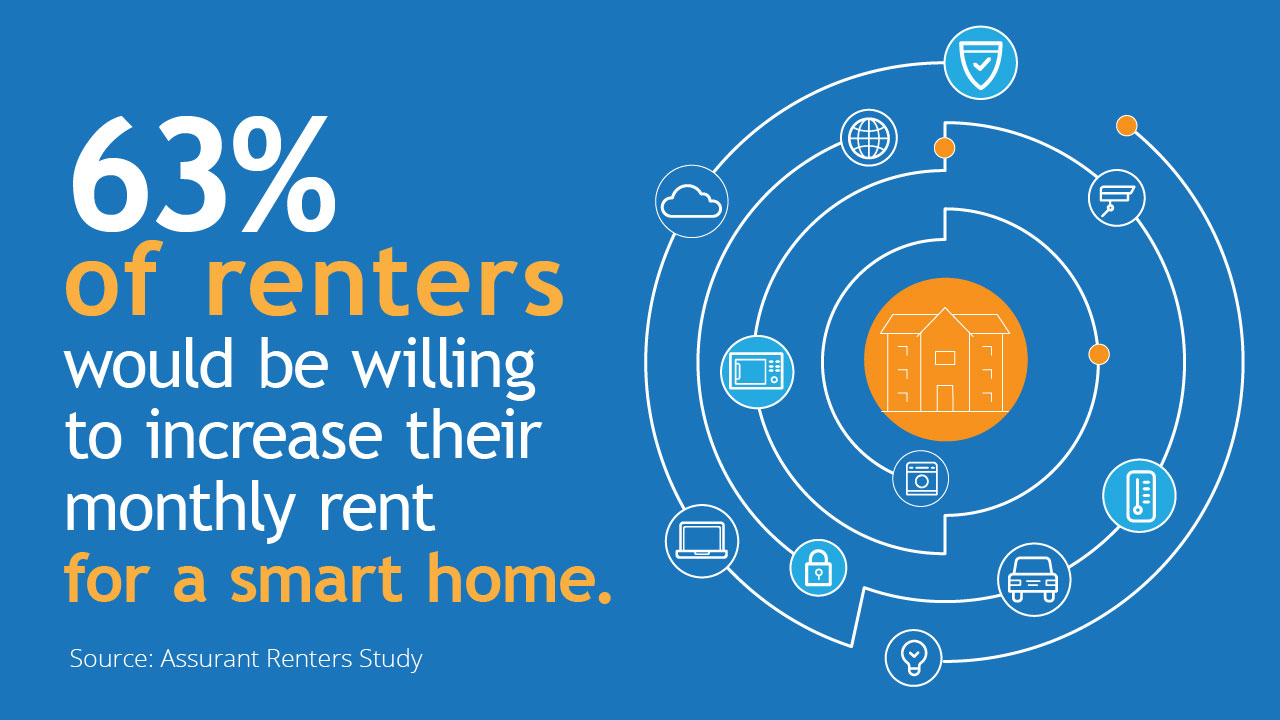 But don't just think about the individual. Return to your audience's psychographic profile, their lifestyles and how your brand meets their needs. For example, if more of your residents are purchasing hybrid vehicles that require charging stations, you might want to invest in more eco-friendly operating systems.
Think about the latest innovations in technology and prepare for them. Whether this means slowly rolling out upgrades as leases expire or making major upfront shifts is up to you.
But one thing is certain: Connecting with your residents will transform your business for the better.