Employee volunteers from Assurant's Duluth, Georgia, location helped turn a house into a home for a deserving family. After nearly 11 months of construction, Habitat for Humanity officials and Assurant volunteers joined the Rem family to celebrate and dedicate the new home on June 4, 2016. The house – a 1,784-square-foot structure in Buford – is the largest single-family Habitat home built in Gwinnett County.
Members of the Rem family are greeted by Habitat for Humanity officials as they dedicate their new home.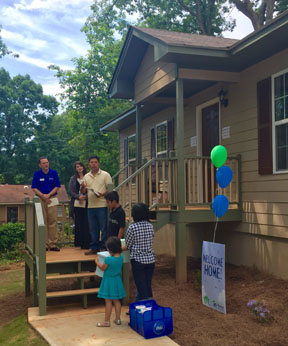 During the commemoration, Assurant employees congratulated Lal and Hlawn Rem, along with their two daughters, Dawt and Genevieve, and son Thawng. The Assurant Foundation provided a $25,000 grant to Habitat for Humanity Gwinnett to support the partnership and recognize the volunteer commitment of Assurant employees. The Assurant Foundation provides financial assistance to nonprofit organizations to help improve the quality of life in the communities where Assurant employees live and work.
"Our continued relationship with Habitat for Humanity has afforded our employees the opportunity to help people in our own community realize the dream of homeownership," said Sean Auerbach, vice president, Duluth Service Center, Assurant.
"'Common decency' is an Assurant core value and we're glad to do our part in delivering on that principle, one home at a time."
The Rems came to the United States as refugees from Burma with their two oldest children in 2011. Since then, the family had lived in a tiny two-bedroom apartment and were looking for a safe and stable home where their family could flourish.
The largest home ever built by Habitat Gwinnett, the Rem family's new house features four bedrooms, two bathrooms, a spacious backyard and ENERGY STAR-rated appliances.
"Gwinnett Habitat is thankful to Assurant for its support of this record-setting project," said Brent S. Bohanan, executive director of Gwinnett Habitat for Humanity. "Because of their sponsorship, this family has been able to move from a cramped apartment into a wonderful new home that they own."
The families that are chosen for a Habitat for Humanity home work alongside volunteers and other Habitat homeowners to help build their own homes using what the organization calls "sweat equity." The families purchase their homes through Habitat for Humanity, pay an affordable mortgage and receive additional education to help them achieve long-term success.