After a massive blaze ripped through the Avalon apartment complex in Edgewater, N.J., destroying 240 units and leaving 500 people homeless, Assurant Specialty Property was the first and only insurance provider on site the morning after the Jan. 21 fire.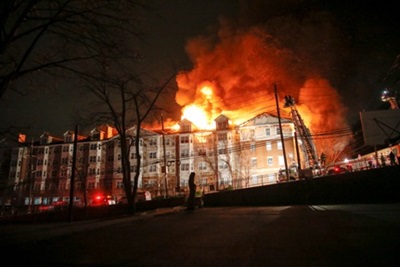 Photo credit: Alex Remnick, NJ Advance Media

Assurant Specialty Property's response team was quickly activated after a fire broke out in a New Jersey building complex. Claims adjusters began processing claims for policy holders the next morning.
According to New Jersey media outlet The Record, the blaze, so massive that 230 firefighters from 35 area fire departments responded, was sparked by a blowtorch used to fix a leaky pipe. Many displaced families were staying in hotels, and the Edgewater mayor ordered schools closed.
"Thankfully, no lives were lost, but for residents who witnessed their homes and property go up in smoke, it was devastating," said Steve Johnson, senior vice president of claims for Assurant Specialty Property. "That's why we plan for such events - so we can immediately help our customers. Our response sets us apart from our competition but, more important, it allows us to assist our policy holders during their time of need."
Alerted to the disaster just three hours after the fire was reported at 4:30 p.m., the Assurant Specialty Property Response Team was quickly activated, and claims adjusters arrived in Edgewater by 9 a.m. to open a field office. The group jumped into action, processing 65 claims within the first hour for its policy holders.
That same day, Assurant Specialty Property prepared checks for overnight delivery to customers to cover their personal property and to pay for temporary housing. By close of business the next day, 115 policyholders had received about $1.6 million in payments. Most residents—92 percent—had chosen to purchase renters insurance, which helped them to quickly begin rebuilding their lives.
Unfortunately, the property loss experienced in New Jersey is not an isolated incident. According to the National Fire Protection Association, in 2013 there were 487,500 structure fires in the United States, resulting in 2,855 civilian deaths and $9.5 billion in property damage. The NFPA also reports that in 2013, U.S. fire departments responded to a structure fire every 65 seconds.
For Assurant Specialty Property policy holders in Edgewater, the loss was made a little easier to bear when their insurer raced to the scene to help, providing money for temporary housing and enabling them to replace items lost in the fire.
"The phenomenal team collaboration for this response was a great success, allowing us to be there for our customers," Johnson said. "When a tragedy like this occurs, we want to help people get back on their feet as quickly as possible."