Let's go to the beach - and be sure to bring along your work gloves!
Assurant employees joined hundreds of volunteers deployed throughout the waterfront community of Gerritsen Beach in Brooklyn, NY to restore homes damaged by SuperstormSandy.
In partnership with Rebuilding Together, a non-profit dedicated to restoring homes and communities, 14 Assurant employees helped bring new life to a home on Dare Court that's sat empty since the devastation struck in October 2012.
"I know what it's like for the residents of this neighborhood as many in my area of Staten Island are in the same situation or have totally lost their homes," said volunteer Brian Wolf, manager of Technology Services for Assurant in New York. "My family was displaced for three weeks after Sandy destroyed our first floor. After that experience, I was glad to volunteer for this event and help another family return home."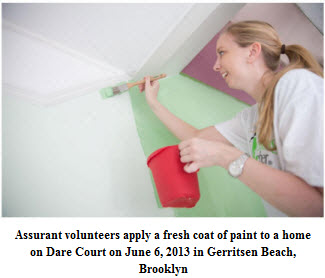 Assurant volunteers painted seven rooms on the ground floor of the historic cottage, removed debris, filled in a sinkhole and rebuilt a small patio.
"Right after the storm passed, I was out with the Assurant Specialty Property field staff assessing damage for our customers", said Keith Goss, manager, Claims, Assurant Specialty Property. "Participating today is another way Assurant and our employees give back to help those in need after disaster strikes."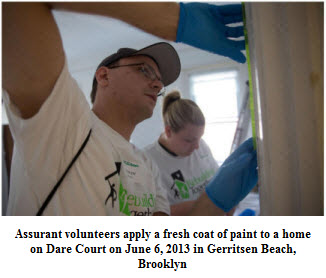 Through the Assurant Foundation, the company matched dollar-for-dollar employee donations up to $1,000 designated for Superstorm Sandy relief and supported an array of charities in New Jersey and New York to assist with the rebuilding.