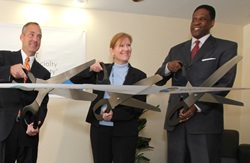 Cutting the ribbon at Assurant's newest office in Dayton, Ohio. From left to right, Dayton Development Coalition President Jeff Hoagland, Assistant City Manager Shelley Dickstein and City Commissioner Joey Williams.
For many people, the one thing that they want this holiday season won't be found stuffed in a stocking or under the tree. It's a chance. An opportunity.
With the opening of Assurant Specialty Property's office in Dayton more than 200 people will get that chance as the company hires staff for its service center operations. In addition, Assurant Specialty Property also presented a $5,000 grant to the Dayton's Children Hospital to celebrate the ceremonial opening and as a show of commitment to helping its new neighbors.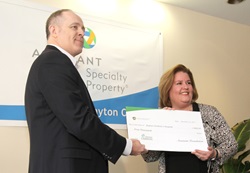 Assurant Specialty Property VP Ray Rafferty presents a $5,000 donation from the Assurant Foundation to Bethany Deines of Dayton Children's Hospital.
"We are thrilled to be a part of the Dayton community, providing jobs to local residents and helping make a difference at the Dayton Children's Hospital," said Assurant Specialty Property Vice President Ray Rafferty.
As one of the largest employers in the Dayton-Springfield area already, Assurant Specialty Property's full office in neighboring Springfield necessitated the expansion that was greeted by Dayton city leaders with enthusiasm.
"I drive by this site every day, and it was great to come here today and see all those cars in the parking lot," said Dayton Development Coalition President Jeff Hoagland at a recent ribbon cutting ceremony at the new office location. "We're very pleased to have Assurant here."